Do you know the worth of your underutilized or aging heavy equipment? Your machines are probably more valuable than you think, especially if you've kept the items in good working condition. There are plenty of eager buyers around the world who are willing to take used equipment off your hands. But before you put equipment up for sale, there are four important steps to take in order to maximize an item's resale value and get the most out of the sale of your used equipment.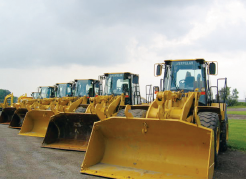 1. Maintain your equipment
Basic maintenance can make a big difference in the quality of your equipment and its resale value. If an item is in poor condition, the pool of buyers interested will be significantly smaller than if the machine has been taken care of properly.
Owners that implement a preventative maintenance program immediately after purchasing equipment ensure that items stay in the best possible condition over time and can then offer buyers reliable machines. Basic maintenance can prevent the failure of major equipment parts, especially hydraulic components. Hydraulic cylinders can leak oil or other pressurized fluids if bushings or seals rot, wear or crack.
A preventative maintenance program should focus on:
Repairing mechanical, structural and cosmetic issues as they arise
Keeping engines well-oiled and hydraulic fluid at proper levels, and changing fluids as per manufacturer recommendations
Replacing parts that have visible corrosion or damage, such as rusting hardware and broken windows
Recapping or replacing tattered tires at the first signs of wear
Keeping a schedule and record of all equipment services
2. Clean your equipment
Cleaning equipment on a regular basis not only prevents residue buildup and keeps it in top shape, but also improves the resale value once it's time to auction items. Over time, grease hardens and needs to be scraped off areas around knuckles and on booms. Mud and vegetation can build up in and around tracks, especially during the winter and early spring. Therefore, it's recommended owners clean these areas often. Removing dirt, grime and debris from both the interior and exterior of a machine keeps it looking its best and operating efficiently. Thoroughly cleaning the equipment both inside and out is highly recommended prior to sale as a clean unit often obtains a higher selling price.
3. Repair your equipment
It's important to know when to make equipment repairs and when to skip the investment. There is not a universal guide to the right cost/value ratio, but sellers should remember that most buyers will be looking for equipment in the best possible condition.
In addition to maintaining hydraulics, all major components, such as the engine and transmission, should function properly. Before putting equipment up for auction, sellers should research recent sales of similar items to assess the potential value. A seller should consider making only the most necessary repairs if the estimated cost of repairs and the original amount invested in the item outweighs the projected return. Where equipment requires repairs involving too much investment, the seller should consider selling the machine for parts.
4. Find the ideal selling platform for your equipment
What seller wouldn't want to save time and money when disposing of equipment? Using an online marketplace, sellers eliminate transportation costs associated with physical auctions because equipment is sold from where it sits. Additionally, owners can list equipment when the time is right for their business in order to take advantage of the cash flow for equipment required for future work.
Inspection reports can instill greater confidence when buying equipment sight unseen. These should include photos and detail features and the current condition of the equipment. Guarantees behind the inspection report provide assurance that what a buyer sees online is what they will get upon delivery. When bidders have greater confidence in purchasing over the Internet, sellers can attract a larger audience and potentially a higher selling price.
Online auctions also offer global reach. Although it may be the off season for the seller, online auctions appeal to buyers in areas with immediate or year-round needs for particular types of equipment. Online marketplaces reach developing countries as well, where the demand for older, less advanced equipment can be higher.
Owners and fleet managers need to consider the impact of depreciation on value when letting underutilized and aging equipment sit in their yards. Taking simple steps to maintain your heavy equipment allows you to reach a greater number of bidders and helps buyers who may not be able to afford new top-of-the-line equipment. Disposing of the equipment in an efficient manner, via an online marketplace, will also take the hassle out of the selling process and provide greater value.