Listening to an auctioneer do his or her thing is as much fun as bidding. The patter (or chant, in auctioneer lingo) entices buyers into a game of call-and-response, the speed creates excitement.
So how great is it that IronPlanet has both heavy equipment and talented auctioneers who make selling it an art form?
A lifetime in the business has given Dustin Rogers, lead auctioneer for Cat Auction Services, knowledge in every corner of auctioneering. He's sensitive to circumstances surrounding the sale, can spot a cautious bidder from 20 paces, and knows how to use technology to generate sales. A third generation auctioneer, he learned and shaped his chant by listening to his grandfather, father, and other callers since he was old enough to help out around the event.
Listening shaped his style; practice made him fast. Like zero-to-90 fast. Dustin has won trophies as First Runner-Up in the Men's International Auctioneer Champion competition for the past two years in a row.
What bidders see at auction is the product of a ton of work that took place leading up to the marquee event. For weeks before, there are client meetings, contract writing, marketing, venue setup and good old schlepping. Dustin spoke (at regular speed) about his experience in auctioneering and what it takes to make a great auction company.
From what I know of auctioneering, which is very little, you go to school to learn about the whole business, along with calling. Where did you go to auctioneering school, and what's it like?
I went to Mendenhall School of Auctioneering in North Carolina. It's really a two-week course that prepares you to take the license exam. After you've passed the exam, the effort you put into calling and running auctions is up to you.
So sort of like getting a contractor's license?
That's right.
At an estate sale or a livestock sale, the auction part that public sees is a small percentage of what goes into our job. At an auction house, the auctioneers do everything from A to Z. Up front it's my job to formally conduct the sale. Behind the scenes, we have to make sure we're legal from a licensing and business standpoint. We meet the customer and get the contract, then write up that contract, do lien searches and take care of whatever needs help, market the event, and set up the site.
At Cat Auctions, they have staff that does all the work behind the scenes.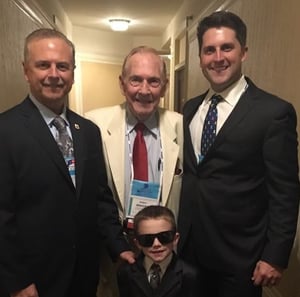 How do you learn to do that crazy calling thing?

It's about rhythm. My grandfather and father are auctioneers; they do mostly real estate. My dad is a very smooth auctioneer and you could listen to him all day long. I listened to other auctioneers, and my chant came together by combining three or four auctioneers style.
That's gotta take a lot of practice.
I used to practice every single day from around 30 minutes to an hour typically. Even when I'm selling, I'm always thinking about doing my best. I record myself every time I go up and sell, then I'll listen to it when I'm traveling back home and sometimes I think 'why did I say that?' or, 'That came across the mic differently than I thought.'
It seems that auctioneers need to be outgoing. Is there a characteristic you think auctioneers share?
You do have to be a people person, I think. One of my favorite parts of the job is looking into the crowd being able to read people. For instance, I might see a guy and think, 'this guy hasn't looked at me all day long.' Then an item comes up and I'll think, 'I bet he's going to bid on this' and sure enough, he makes eye contact and bids. It's like you can have a personal conversation with 1,000 people, one person at a time.
How does internet bidding affect your style?
When you realize there's 10,000 bidders on at that time, it puts a new aspect on what you're doing and how you're doing. But it doesn't change my style as a caller. I will check the internet from time to time and say, 'John from Texas, are you still there?' We have to make sure we're keeping a fast pace so we can sell everything, and make sure the person on the net is getting a fair chance at bidding, as much as the person sitting the audience. There's no other form of marketing where you have that kind of interaction constantly.
Auctioneering must be stressful sometimes.
You need to relate to the person that you're selling for as well as to the people who come out to bid on the item. We might be working with somebody's whole life savings. Every single piece we sell might be their retirement money. Everything we have to do must be as well stated as possible so they have a good auction experience.
You'll be able to see Dustin Rogers in action at IronPlanet's live auction in Dallas/Ft. Worth on September 14. This is an unreserved auction, so go BIG in the Lone Star state! Review the items and place your priority bid now on a 2013 Cat 740B Articulated Dump Truck, a 2012 John Deere 950J Crawler Tractor, a 2012 Cat 320EL Track Excavator, a 2000 Kenworth T800 T/A Conventional Day Cab, and much more!