Finning-hosted Cat Auction Services events feature more than just Cat equipment
It was August last year when the world's largest Caterpillar dealer, Finning, agreed to jointly market used heavy equipment in western Canada through Cat Auction Services, IronPlanet's unreserved auction marketplace. The move enabled Finning to offer its customers an auction alternative they can count on. It also connects western Canadian equipment owners with IronPlanet's 1.5 million registered online users around the globe.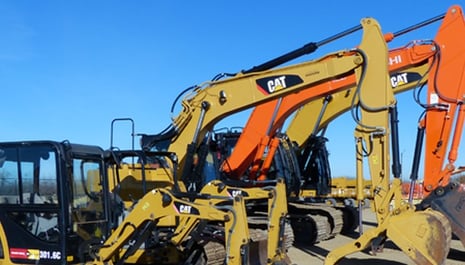 So far, three live Cat Auction Services Unreserved Public Auctions have been held at Edmonton's Marriott River Cree. With the next auction scheduled for September 21st, you can preview equipment at the Cat Auction Services yard in Acheson. In addition to local representation at the live events, the Finning-hosted auctions have attracted worldwide interest.
But closer to home, folks familiar with Finning, have some lingering questions about the new auction alternative. Perhaps the biggest and most basic being: can I sell my non-Cat equipment at these Finnng-hosted unreserved auctions? The answer is "Yes!"
When you're looking to move surplus iron through auction; Finning and Cat Auction Services team up to welcome all makes and models. So there's no need to hesitate in calling a Finning or IronPlanet rep when you're considering the auction alternative - even if all of your equipment is non-Cat.
Your Finning salesperson, working with experts from Cat Auction Services, will then arrange for inspections and provide you with advice based on IronPlanet's extensive data regarding the optimal time to sell and the best channel to meet your needs.
A Finning sales rep underlines the point. "Our customers want to make sure they maximize the dollars that they get out of their old equipment, regardless of the make. Cat Auction Services helps them do that by getting their machines in front of a global market combined with the backing of the Cat dealership that they've come to rely on."
To ensure you get your machines in the auction brochure for the September 21 event, contact your Finning sales rep today at 1-888-FINNING or www.ironplanet.com