Heavy equipment owners look to restructure as downturn continues.
ATB Financial, the largest Alberta-based financial institution, states in a report released July 4 that there's "a glimmer of light" at the end of the province's darkened economic tunnel.
That conclusion is based on an Ipsos online survey of 1,007 respondents conducted in April. But it's a minuscule glimmer, some would argue.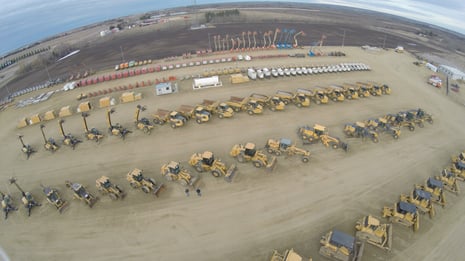 Just five percent of those surveyed viewed Alberta's economy as much better than it was six months ago, but that's a three percent increase which ends a downward slide of opinion that began in the fall of 2015. Still, 44 percent view the economy as much worse than it was six months ago, down from 47 percent in Q1 2016. Glimmer indeed!
ATB's survey report also outlines the huge impact the downturn has had, finding that 55 percent of Calgarians and 53 percent of Edmontonians claimed to be significantly impacted by the drop in oil prices, a higher rate than in other parts of Alberta.
Province-wide, 49 percent of Albertans say they've been impacted by the slump in oil and natural gas prices which have plummeted more than 50 percent since late 2014. A whopping 30 percent of survey respondents said they'd lost their jobs as a result.
Glimmers of real recovery remain elusive. Many economists, including those at the Conference Board of Canada, are saying Alberta's economy won't gain significant ground until 2017.
That will mean a continuation of brisk business for Alberta auctioneers, particularly in the used equipment sector, says John Arnold, president of the Auctioneers' Association of Alberta, one of the oldest associations of its kind in North America. The Association works to uphold professionalism, educate its 425 members and serves as a government lobby group around industry regulations.
From his point of view, Arnold, who served in the banking industry for 35 years, sees current economic woes as "a little more severe" than in the past. "Previous downturns have typically lasted anywhere from eight to 18 months, but this one feels different. It's more of a structural change as companies look to scale back, reduce debt and generate cash in order to survive."
Arnold adds that auction prices for used equipment have held up well thanks to continued interest from U.S. and other foreign buyers.
Helping to generate that international interest in Alberta's used equipment market is Cat Auction Services, one of the newest members of the Auctioneers' Association of Alberta. An IronPlanet marketplace, Cat Auction Services is a leader in helping owners move their surplus equipment onto a global stage which now consists of an industry-leading 1.5 million registered users for its online platform.
Local Caterpillar dealer Finning is also getting involved. Noting the heightened interest in the auction channel, Finning now partners with Cat Auction Services to host live, auction events at Edmonton's Marriott River Cree Resort four times a year. Interested bidders can check out the consigned equipment in action at the new 12-acre Cat Auction Services yard in the Acheson business park.
Finning Edmonton sales rep Grant Dykstra sees the move to the auction sales channel as a natural progression, particularly in these economic times. "Our customers want to make sure they maximize the dollars that they get out of their used equipment. Cat Auction Services helps them do that by getting their machines, of all makes and models, in front of a global market combined with the backing of the Cat dealership that they've come to rely on."
Now that's a glimmer of light you can take to a bank like ATB.