Saves on transport costs, achieves better than expected returns
Canada's new, used equipment auction alternative is rapidly building a following. That's what Finning equipment salesperson Norm Roine from Vernon will tell you.
After advising one of his customers he had something up his sleeve that could help them with their plans to restructure their fleet, he was met with, "Who the hell is IronPlanet?" That understandable blind spot was quickly resolved and the newly enlightened owners of a mid-sized Kelowna-based construction firm ended up disposing of 14 units through the new auction channel and adding eight new Cat machines from Finning.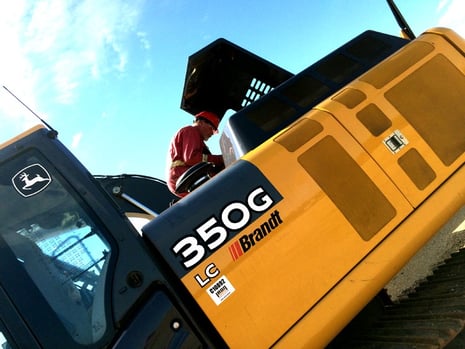 How to save $50K: With Cat Auction Services, machines are inspected and marketed right from your yard, saving you on transport costs.
The sizeable transaction was made possible by the partnership between Finning and IronPlanet, which was announced about a year ago. So far, Finning has hosted three Cat Auction Services live auction events in Edmonton, giving its customers the opportunity to participate in the local auction or take part in IronPlanet's weekly online auctions. The next live auction is scheduled for September 21 in Edmonton at the Marriott River Cree.
To get machines into the auction brochure, Finning salespeople work together with IronPlanet territory managers, who arrange equipment inspections and help coordinate pricing.
Better returns, zero costs to get equipment to auction
In Roine's recent Kelowna transaction, the package of machines fetched better than anticipated returns and sold "virtually", which means the company was able to put all of the units, both Cat and non-Cat, in the auction without having to transport them to the auction site.
"This probably saved them about $50,000 in transportation fees and they were very happy with how the sale went," says Roine, who also helped the company add eight new Cat machines - two 325F excavators, two 335F excavators, a 305.5 mini excavator, a 279 CTL, a 930M wheel loaders and a 160M grader. "It was my largest sale of the year."
The veteran Finning salesperson, with 37-years of company experience under his belt, likes how the new IronPlanet/Cat Auction Services sales channel is helping his customers. "It provides them with a viable auction alternative backed by the Finning, Cat and IronPlanet brands. That makes us a one-stop shop because we can package things for customers to meet their needs."
To get in on the Finning - IronPlanet auction action, contact your Finning sales rep at 1-888-FINNING or www.ironplanet.com.