This week, we kick off a new weekly blog feature, "Canadian Perspectives" from our team at IronPlanet, Canada.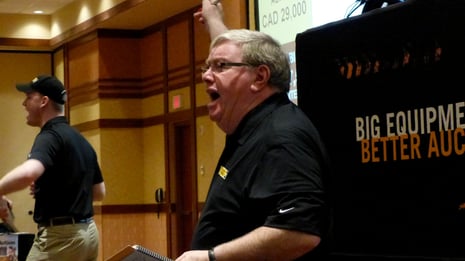 Most people know that Canada's a big place, 2nd only to Russia in land mass (the U.S. ranks 3rd). So not having to drag the equipment you want to sell to an auction site hundreds of miles away is a real bonus. Some Albertan equipment owners, who were in attendance at a recent Cat Auction Services auction in Edmonton, wholeheartedly agree. The equipment management team from a Calgary-based operation with nearly 200 pieces of used heavy equipment scattered from coast to coast made the difficult decision to trim the fleet. A sizeable portion was parked against a fence due to a sputtering economy. The equipment director's thinking was this - as inactive units age, potential repair and maintenance bills could potentially balloon.
But the "main factor" in his decision to dispose of his used heavy equipment through Cat Auction Services was the auction company's ability to do so virtually. "Our equipment is located across the country so for us to move it all into one site, whether Edmonton, Calgary or Vancouver, or wherever the auction site is, that would be pretty expensive," the company spokesperson advised. "The way these guys (IronPlanet/Cat Auction Services) operate, they can sell our used equipment to global customers without us having to move it from our yards."
Finning major account manager Dean Smith was also on hand at the Edmonton event. "The option to sell remotely has really helped my customers," he explained. "They don't have to bring it to site to sell it. They're able to just list and sell as is and that seems to work really well for them."
Cat Auction Services thoroughly inspects used equipment right where it's located, snaps hundreds of pictures and a series of video shots of the machine in action. Presto! That unit sitting in Beiseker is now front and centre on the global stage. With the Edmonton auctioneer's call ringing in our ears, we asked for a half-time progress report from our customer from Cowtown. "We've moved 12 machines so far," he noted. "Our skid-steers went quite low, which we were expecting. But the rest of the equipment is doing well, which is mostly due to the US economy and the dollar difference. So I'm quite happy. We even had a bidder from Egypt."
In Canada, we can't resist reporting that we passed this customer's auction test with all "eh's ". And watch for our next live auction event at the River Cree in Edmonton June 22; you can consign equipment and trucks now!