When the shipping container trend makes news in magazines like Sunset, you know it's hit mainstream status. IronPlanet might have missed the decorative concrete craze, but we're all over this one. The October 13 auction features airtight, watertight containers that are affordable and ready to be repurposed into a shed, tiki bar, playhouse - the list is long.
If your imagination needs a little push, check these projects made from shipping containers. Some are super high-end: stacked, wired, plumbed, and designed into stylish residences with the help of commercial architects and a generous budget:
They definitely went big.
The Yard at Mission Rock in San Francisco near the ballpark is hipster-cool. The container bar sits in a complex that also features a stationery food truck, stands with coffee; ice cream, beer and wine.
The best part about containers, other than when they're tricked out and serving drinks, is that they're: a) available; b) affordable; and c) versatile. Got a notion to build a stand-alone office or deck? Need a place to store your in-law or millennial? Look no further than IronPlanet's October 13 auction featuring shipping containers eager to be repurposed into something beautiful and functional.

Some of you might still be thinking, "IronPlanet, I am skeptical." We understand that, but we say take a look at the following large, medium, and small ways people are thinking outside the container, so to speak. Bet you'll be inspired to go big.
Imagine watching a rainstorm or enjoying chilly nights from this cozy container deck.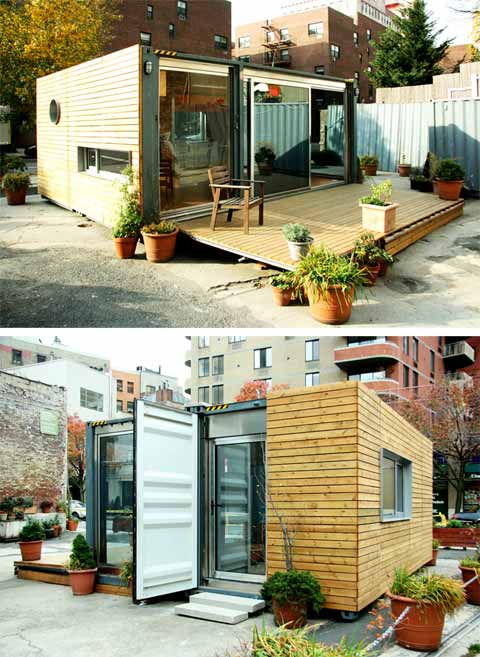 A shoebox in New York City rents for around $1,200 a month, not including hot water. Here's a container home at the corner of Washington and Charles Streets in Manhattan. No more deciding between storage for your plates or your coffee maker - there's room for everything!
This desk and chair was created from a shipping container.
The deer and rabbits won't invade this garden. A clever urban farmer crafted a greenhouse for his plants.
Watertight containers, like the ones featured in our October 13 auction, make awesome pools. (Do a leak test before diving in, though. Just sayin'.)
Probably the best use of a container - a playhouse for kids of any age.
Inspiring, right? You're thinking about that corner of the back yard you've always felt needed something to replace the old swing set. Here's your opportunity to jump on one of the coolest, most practical trends to come along since outdoor shower stalls (though we still really like that one.) Go to our October 13 auction and take the step in making those big ideas happen!