Sure, they're handsome and reliable, but excavators also have a lot of depth.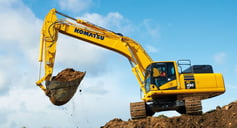 Excavators, aka diggers, aka shovels, are usually the first ones to the jobsite and the last to leave. In addition to digging the foundation and tidying up when the project is winding down, versatile excavators perform all kinds of jobs that require both strength and finesse.
Tearing down a house in a neighborhood without freaking out the neighbors.
Digging a very large pit can be an exercise in coordination with other machines.
And there are times when sensitivity and a cool head are essential, like this fawn rescue. Check out how delicately the operator maneuvers the bucket.
They're also more than just a pretty bucket. With an array of attachments that can do many jobs at the site, versatile excavators can carry tools, crush rocks, rip, and dig.
Click over to the August 18 auction, where you can get a great deal on a 2008 Komatsu PC300LC-8 Track Excavator. Buy with confidence knowing that items listed on IronPlanet are backed by our Ironclad Assurance® equipment condition certification.