Do-it yourself, DIY, Fixer Upper...we've all seen the reality shows where buyers take something old and make it new. GovPlanet customer Rick Stickle recently took DIY to a whole new level and industry - used construction equipment. Rick's business, Midwest3PL, a third party logistics company out of Cedar Rapids, Iowa, transformed a used Case Crawler Tractor with minimal time and money and gave Midwest3PL a nearly new piece of equipment to use for years to come.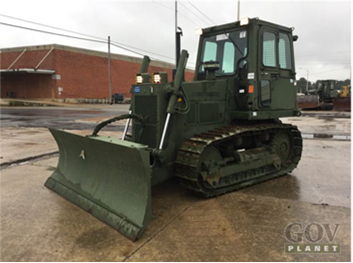 1988 Case 1150 Crawler Tractor BEFORE
A History of Do-It-Yourself
Rick Stickle is in the warehouse business as a 3PL (third party logistics) provider to a number of Midwest-based clients, hence the name Midwest3PL. As the owner of over 150 different buildings, he has subscribed to the "Do-it-yourself" policy for most of his 65 years of life. When it came time to expand one of his large buildings in Cedar Rapids, Stickle began the process acting as his own General Contractor. "Since we already had many other construction equipment items, there seemed to be a general need for a laser guided track machine. After investigating the cost of comparable, newer models, I looked into IronPlanet's GovPlanet site and realized that there were severalolder Case dozers being auctioned off with relatively low hours on them. I checked with a couple of our local dealers for comparable laser equipment and found that for a very small investment, we could purchase laser guided tools that could be utilized on the Case dozer as well as other equipment as well."
Online Bidding During Lunch Meeting
On auction day, Stickle was not onsite fighting rain, crowds and inspecting inventory. Instead, he was sitting down at the annual local "State of the City" luncheon, hosted by the Mayor, periodically glancing at his phone. "Between my salad and the main course, I became the successful bidder of the 1988 Case 1150 with only 31 hours on it for $38,000!" The price he paid for the machine was approximately one-fourth of the price of a similar piece of equipment he was considering, with over 2,000 hours on it. After his successful bid, he employed his DIY skills again to find a paying load that a Midwest3pl truck could deliver near to the location of his newly puchased machine. This DIY transportation approach paid all of the fuel, labor, and truck costs to deliver the dozer to Iowa.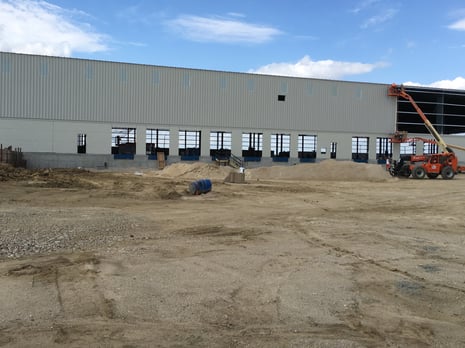 Midwest3PL Jobsite - Building Expansion Project
Back to Work
When the Midwest3PL truck arrived back in Cedar Rapids the following Friday evening, Stickle had already arranged a crew to be available in the shop for the weekend to strip the paint, and repaint the dozer back to it's factory Case colors. The dozer was finished by early Sunday afternoon and by Monday morning, it was delivered to the job site of their new building project. The final step was adding new Case decals from their in-house decal shop.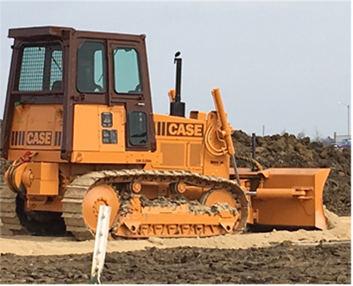 1988 Case 1150 Crawler Tractor AFTER
Today, the project is just about complete. The new building will add over 430,000 square feet of space to their operations. He calculates that his dozer leveled over 76,000 tons of new fill used for this project. "Our cost to level 76,000 tons divided by $38,000 is only 50 cents per ton!! Plus we still have an almost new machine with only 300 hours on it." Needless to say, this GovPlanet's fixer upper was a complete success.
Interested in used equipment for your job site? Need tools, parts or attachments for existing equipment? Check out our upcoming IronPlanet auctions on Tuesday, July 26, and Thursday, July 28 for all your used equipment needs.