IronPlanet®, a leading online marketplace for selling and buying used equipment and other durable assets, today announced that its GovPlanet marketplace has launched Vet Threadz, a U.S. military veteran-owned and operated non-profit apparel company, as an inaugural platform advertiser. Since Vet Threadz began advertising its apparel line on GovPlanet.com in April 2017, the company has seen a 300% increase in website traffic.
IronPlanet's GovPlanet marketplace addresses the specialized equipment disposition needs of public entities, from federal, including military, to state, local and municipal. GovPlanet also offers U.S. military Humvees (High Mobility Multipurpose Wheeled Vehicles or HMMWVs) for sale to its large consumer buyer base via its weekly online auctions. Vet Threadz, which has a mission to help fight the high number of veteran suicides in the U.S., designs its own high-quality clothing and donates the proceeds to various charity organizations that support veterans dealing with PTSD and other war time related issues and illnesses.
Vet Threadz selected IronPlanet's GovPlanet as an ideal online advertising platform to reach consumers who share a love for the men and women who serve our nation. The most recent Vet Threadz campaign on GovPlanet features rotating banner ads on the homepage and auction preview page. While the Vet Threadz campaign is specific to the GovPlanet site, IronPlanet's new advertising solution is now available across all of its sites and platforms, including IronPlanet, GovPlanet, TruckPlanet, Cat Auction Services, Kruse Energy & Equipment Auctioneers and more.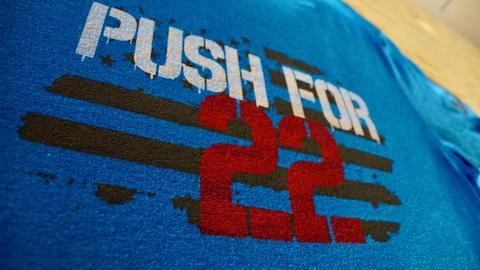 "Each week GovPlanet draws an average of 80,000 or so attendees to our online sales and marketplace, making it the ideal advertising partner for businesses who are targeting military and equipment aficionados to increase sales and web traffic," said Matt Ackley, IronPlanet Chief Marketing Officer. "We are proud to have Vet Threadz as one of our early GovPlanet advertisers and honor the work they do to support our veterans. It is exciting to see how our platform has helped to dramatically increase their visibility."
"As a non-profit business that donates all proceeds to veteran's charities, we were seeking to greatly expand our reach and get in front of more people," said Justin Clark President and CEO, Vet Threadz. "GovPlanet provided us with the perfect solution to reach like-minded consumers, who have great interest in military equipment and vehicles and who are concerned about the welfare and care of our saluted veterans, past and present. While we have only been advertising on GovPlanet for a short while, we've already seen our website traffic increase a remarkable 300%. It's a win-win situation for our veterans."
About IronPlanet
IronPlanet is a leading online marketplace for selling and buying used equipment and other durable assets and an innovative participant in the multi-billion dollar used equipment market. Founded in 1999 to transform the global used equipment market, IronPlanet has built a database of more than 1.7 million registered users worldwide. IronPlanet connects buyers and sellers of used equipment with its exclusive IronClad Assurance® equipment condition certification and family of brands, including IronPlanet®, GovPlanet®, TruckPlanet®, Cat Auction Services, Kruse Energy & Equipment AuctioneersSM, allEquip® and Asset Appraisal ServicesSM. IronPlanet is backed by Accel Partners, Kleiner Perkins Caufield & Byers, Caterpillar and Volvo. For more information, visit www.ironplanet.com