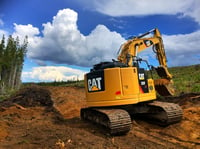 Introducing Make Offer: IronPlanet's New Way to Buy
Right now you can purchase your heavy equipment at IronPlanet three ways: bid online, attend a live auction, or buy now online. A pretty good list of options, right? Well, at IronPlanet "pretty good" is a distant cousin to going big, so we've created another way for you to upgrade your fleet: Make Offer.
A Slate of Options
By adding the Make Offer option to its worldwide, technology-driven, online and on-site auction formats, IronPlanet now offers the industry's most comprehensive slate of options for both buyers and seller. "Sellers who may have waited to market their equipment through online and on-site auctions now have a clear option to set their own prices, as well as the flexibility to see what offers might come," said Matt Ackley, IronPlanet Chief Marketing Officer. "For buyers, Make Offer enables us to bring more quality equipment to market, faster."

Try It Now
Go to the "Make Offer" page, and click on an item that interests you.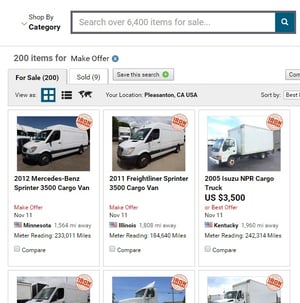 See the flashing cursor in the bid box? That's binary for "Offer. Offer. Offer." Enter your amount and click on "Make Offer." The seller will review the amount and either accept, reject, or counter the offer. Make your best offer; if one item has multiple offers, odds are the seller will go with the highest amount.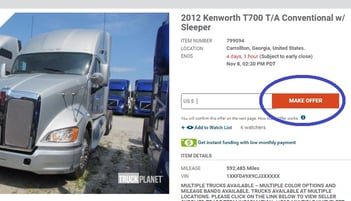 Need a cargo van, cargo truck, skid steer loader, or a T/A truck? How about a generator, Komatsu excavator, or an asphalt batch plant? In-demand items will go quickly, so if you see something you need, jump on it with an offer.
Power for the Buyer
IronPlanet has added "Make Offer" as another way for you to purchase the equipment you need at a fair price. You'll have access to an even larger and constantly changing selection of quality equipment. Not only that, when you read the detailed, upfront inspection report, you can determine a dollar amount according to your set of calculations. Bid confidently knowing IronPlanet stands behind their items with the IronClad Assurance® equipment condition certification.
A Wide Audience for the Seller
Now sellers will have the ability to market their equipment to IronPlanet's 1.5 million registered users, in addition to listing items on their own websites or other sales channels. They'll have full access to offer data to better understand marketplace dynamics, and the full support of IronPlanet's inside sales team.
Thank you for being part of the IronPlanet community of buyers and sellers, people who know how to go big.