There's no such thing as a wimpy coal miner. The same goes for their equipment. Coming up in IronPlanet's August 25 auction, we'll feature excellent machinery: Cat backhoe loaders, Cat wheel loaders, a Case excavator, many Cat crawler tractors, a Kenworth dump truck, and more hard-working equipment previously used in Kentucky's coal mines. And because mining stuff is cool, read this post to the end to learn about the mother of all excavators.
These items are available now to preview, along with the entire slate of IronPlanet's 1,000+ items up for bid in the August 25 auction. Be sure to read inspection reports.
IronPlanet now offers buyers instant financing on equipment purchases with Express, by Currency Capital and financing options from Cat Financial. Instant financing, along with IronPlanet's IronClad Assurance® equipment condition certification is just another way IronPlanet helps its customers to buy online with confidence.

Enclosed Cab, Air Conditioner, Heater, 162" Wide General Purpose Bucket, Joystick Steering, Autoshift, Ride Control, 35/65-33 Tires

Enclosed Cab, Air Conditioner, Heater, Retarder, Ground Level Engine Shutdown, 29.5R25 Tires
Enclosed Cab, Air Conditioner, Heater, 60" Smooth Edge Bucket, Long Reach Boom and Stick, Straight Line Travel Pedal, 31 1/2" Track Shoes
Now for the thing that was promised . . .
. . . but first, a tiny geography lesson. Bogatyr Mine sits in Ekibastuz (pronounced just like it's spelled) in Kazakhstan, which is tucked under Russia's western border like a football, only with coal - lots of coal. In fact, Bogatyr is the world's biggest coal excavation site, and together with the Severnyi mine next door, the coal reserves are estimated at 4.5 billion tons.
It makes sense then, that the biggest coal mine has the biggest machinery. Lay your eyes on this humdinger:
Called the bucket wheel excavator, this bad boy requires 27 miners to operate it - AT ONE TIME.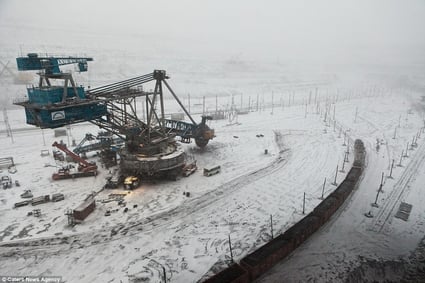 It tips the scales at 45,000 tons; the blade spans about four stories. Putting the pedal to the metal it goes from zero to one in three hours, and can mine about 4,500 tons of coal in 60 minutes.
The saw blade is mounted on a boom. On the outer edge, a series of buckets remove the coal and offload it on a conveyor belt.
You want one, right? Yeah, no - you can't have it. What you can have is here at IronPlanet on August 25.