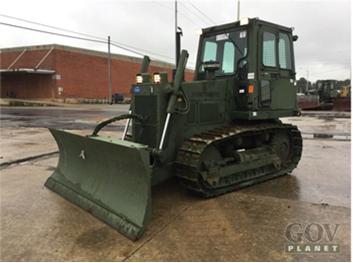 Do-it yourself, DIY, Fixer Upper...we've all seen the reality shows where buyers take something old and make it new. GovPlanet customer Rick Stickle recently took DIY to a whole new level and industry - used construction equipment. Rick's business, Midwest3PL, a third party logistics company out of Cedar Rapids, Iowa, transformed a used Case Crawler Tractor with minimal time and money and gave Midwest3PL a nearly new piece of equipment to use for years to come.
1988 Case 1150 Crawler Tractor BEFORE
A History of Do-It-Yourself
Rick Stickle is in the warehouse business as a 3PL (third party logistics) provider to a number of Midwest-based clients, hence the name Midwest3PL. As the owner of over 150 different buildings, he has subscribed to the "Do-it-yourself" policy for most of his 65 years of life. When it came time to expand one of his large buildings in Cedar Rapids, Stickle began the process acting as his own General Contractor. "Since we already had many other construction equipment items, there seemed to be a general need for a laser guided track machine. After investigating the cost of comparable, newer models, I looked into IronPlanet's GovPlanet site and realized that there were severalolder Case dozers being auctioned off with relatively low hours on them. I checked with a couple of our local dealers for comparable laser equipment and found that for a very small investment, we could purchase laser guided tools that could be utilized on the Case dozer as well as other equipment as well."