Wildfires that forced the evacuation of 88,000 people from the city of Fort McMurray in northern Alberta nearly three weeks ago continue to burn. Alberta officials say the fire now covers more than 2,000 square miles. It destroyed 2,432 structures in the city and damaged another 530. The good news is 25,000 structures were saved. Red Cross and Finning Canada have stepped forward in support of evacuees.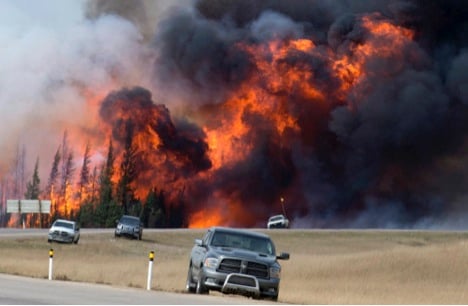 Tragically, two people, one the daughter of a deputy fire chief, died in a vehicle collision after escaping the inferno that engulfed their town. The Fort McMurray fire grew quickly, from just 200 acres to 6000 acres within two hours of being discovered on May 1; two days later, all of Fort McMurray, a community that supports the huge oil sands industry in the region, was placed under a mandatory evacuation order.
Although fire conditions remain extreme in the region, Fort McMurray evacuees should begin returning home June 1. Cooler temperatures and rain are helping firefighters battle the blaze.
A number of companies have stepped forward to support evacuees and the eventual rebuild effort. Western Canadian Caterpillar dealer and our partner in the region, Finning Canada, announced that it will contribute $100,000 in support of immediate and ongoing fire relief efforts.
"Finning has been a part of the Fort McMurray community for over 50 years and our thoughts are with all of those impacted by this tragedy," said Juan Carlos Villegas, president of Finning Canada and COO of Finning International Inc. "With 850 employees in the oil sands region, our priority over the first 72 hours was ensuring the safety and wellbeing of our employees and their families," said Mr. Villegas. "We have been overwhelmed by the outpouring of support from across the entire Finning organization for our fellow employees and their families who have been displaced by the devastating fires. Everyone is doing what they can to help their colleagues, customers and friends in Fort McMurray."
Finning is also exploring other opportunities to provide equipment or services in support of the efforts to fight the wildfires.
The Canadian Red Cross also announced on May 13 that it distributed more than $30 million to evacuees in a 24-hour period. The ongoing electronic transfers represent the largest and fastest distribution of immediate financial assistance to people in Canadian Red Cross history. To date, more than $67 million has been donated by Canadians to the Red Cross Alberta Fires appeal.