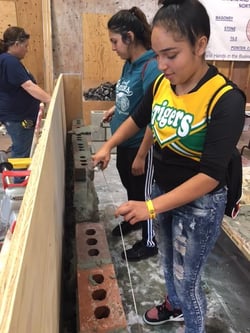 Clad in a cheerleader's top and fashionably torn jeans, Natalie is brandishing a trowel with the same assurance as if she were waving a pom pom. Facing a waist-high wall, she smears a trowelful of mortar atop a brick, then places another brick on that. She pushes the piece down and taps it into place with the butt of the trowel, assiduously aligning it with its fellow bricks. The cement that smooshed out is scraped up and wiped on the side of the new brick. She stands back, admiring the neat angle and smooth finish. "That was fun," she states.
"You've done this before!" says the woman from Bricklayers Local 3. Natalie beams, washes her hands before straightening her green and gold top, then beelines to the display across the way - blue flames shooting from a pipe connected to a computer readout.
Imagine a regular fair except the attendees operate the machines instead of riding them. That's the vibe at Women Can Build, a hands-on trade fair located in Hayward and co-sponsored by Bay Area Apprenticehip Coordinators Association and Oakland-based Tradeswomen Inc. Natalie is one of the 100-plus young women busily gathering information about apprenticeships from organizations like International Union of Operating Engineers, and Operating Engineers Journeymen, to name a couple. Most attendees are students from surrounding high schools, with a sprinkling of adult women investigating new career paths; all ages are welcome. IronPlanet went along to see what the future of skilled labor looks like. Hint: it's wearing mascara.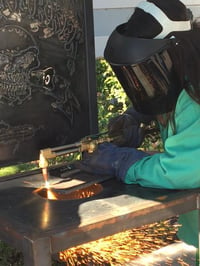 Throughout the building representatives from different unions man tables with brochures, stickers, and useful swag like phillips head keychains. The place is buzzing. And hammering. And sparking. First stop for the prospective tradeswomen is a long table where they build the tool caddies they'll carry through the fair and then home. A few steps down is the welders station, where a young woman dials in the fit on her mask, pulls on enormous leather gloves, lowers her visor and touches a torch to a seam. Out back, past the sheet metal workers and scaffold builder exhibits, burgeoning equipment operators maneuver scaled-down excavators.
The trades are running out of people.
Two major factors contribute to the push for skilled labor: during the 2007 recession workers developed other skills. Now that construction is picking up, the need for workers is growing. The other factor is an aging workforce. Based on Bureau of Labor Statistics data the median age of construction and extraction workers in 2012 was 41.4.
Although many women work in construction–at the industry's peak in 2006, construction occupations employed 295,000—women's share of construction jobs has been stuck at less than 4 percent for more than 40 years. That bothers Tony Hernandez with the Carpenter's Training Committee, an apprenticeship school that trains carpenters, millwrights, drywall lathers, hardwood floor layers, insulators, and scaffold builders.
"I have two daughters, and never once did I ask them to come into the trades. It got me thinking, 'I'm blowing this,'" he said. "Quite frankly, we're running out of people. If we don't open up and get women involved, we're not going to be able to fill the jobs. I want to let other women know about the opportunities they have available."
Job satisfaction, the greater good, and kicking butt.
Starting wages for apprentices are respectable, even by the California Bay Area's stratospheric standards. Ironworkers with welding skills can earn from $25 to $35 an hour straight out of the box, more as they accumulate experience. The potential earning power is attractive, but the idea of work contributing to a bigger picture is a notion that inspires Nadine, an apprentice with International Union of Operating Engineers, Stationary Local 39. "Right now I'm in hydraulics. We have big gates that send a large amount of flow throughout the city, so I make sure the accumulators are checked every six months, have the right pressure so when we open the gates it doesn't flood and hurt the ecosystem. It's so. Much. Fun."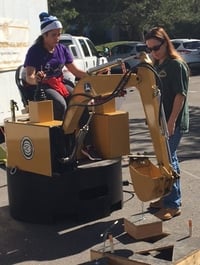 If issues around breaking into a traditionally male-dominated workplace are a concern, young women are giving it a brief nod, then moving on down the line. "We have about 10 percent women in our apprenticeship program, the highest number of women in all apprenticeship programs in Northern California," said Catherine Lytle, coordinator with

Operating Engineers Journeymen Apprentice Training Program. Getting the job is a gender-blind process, after that it's up to the women to prove themselves. "The names go on an out-of-work list. Whoever is the first on the list when a call comes in, that person gets the job. The women go out there and they just kick butt. Once you get a reputation and the crews know who you are, you're in."

The path for women is wide open.

Natalie is unfazed by the flame shooting from the top of a pipe as she peers at a replica of a central control system for a large building. "My dad is a stationary engineer," she says, lifting the lid on an LED readout to get a look at the guts. "He'd take me to work and we'd do welding, we'd do building, and I liked that." Asked if she planned on enrolling in an apprenticeship program, she replied with varsity-league conviction: "Of course!"

For women who don't see college as part of their life paths, work in the trades can be a rewarding option. Apprentices can earn real-life wages while completing a program, and they'll graduate debt-free. By investing a day in seeing what's readily available to them, Natalie and the others have interesting options to consider.

For more information, contact Ester Sandoval, Program Coordinator, Tradeswomen, Inc.; email womenintrades3@gmail.com, call 510-922-8069. Visit their website at www.tradeswomen.org.