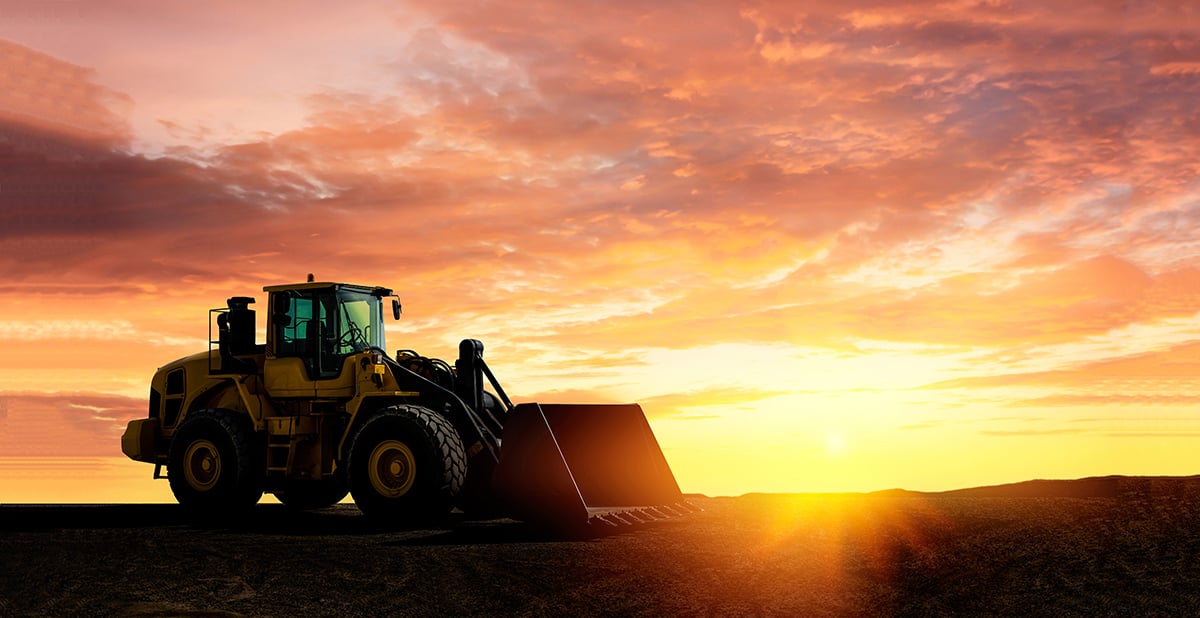 It's hard to imagine construction or mining operations running smoothly without wheel loaders. This versatile piece of equipment has been one of the most popular machines for decades and likely to stay around for many more years to come. The global population of wheeled loaders is believed by Off-Highway Research to have risen by 75% over the last decade from 1.3 million machines in 2008 to 2.23 million a year in 2017. The value of the sector is expected to reach USD 17.8 billion (EUR 15.9 billion), in today's prices, by 2022, compared to USD 14.8 billion (EUR 13.2 billion) in 2017 – a 20% increase.
Are you a fan of wheel loaders? Impress your friends and colleagues with these 6 interesting facts.
1. The first wheel loaders
In 1954 Volvo Construction Equipment invented one of the first wheel loaders calling it the H10. Powered by a three-cylinder diesel engine and a 35 horsepower, the H10 was inspired by a reversed tractor and in no time became a big success. In the early 1970's larger Volvo wheel loaders with articulated steering were introduced with a new type of lift arm system and comfortable cabins with high safety. In 1972 Volvo introduced a larger loader - the LM1641, powered by a Volvo diesel engine of 240 horse power. This machine was kept in production until 1980. Since then, Volvo produced 17 different models, varying from 4.3 tonnes up to 56 tonnes, including much beloved models such as the L110G, L350F, and the L180F. Today, there's over 20+ manufacturers that produce wheel loaders for above and below ground operations, including Cat, Liebherr, Case, Doosan, Hitachi and JCB.
2. The first articulated wheel loaders
In 1953 Portland, USA based company Wagner & Sons introduced to the world two new wheel loader models, the LD5 and LD10. These were the world's first articulated-frame wheel loaders receiving the name of 'Scoopmobiles' With an articulation up to 20 degrees bucket swing, and the also articulated pivot points the wheel loaders could now oscillate left and right from horizontal position.
Both machines were discontinued in the 1960s. The LD5 was produced until 1965, while the LD10 had a shorter production life, stopping in the early 1960s. Although both machines brought advantages to the heavy equipment world, the line never achieved its full potential. What we today see as the industry standard wheel loader system, was achieved 1959, when General Motors presented to the world their own version of articulated steering system.
3. The largest wheel loader
Since it was first revealed to the world at the 2000 World Mine Expo held in Las Vegas, Nevada, the LeTourneau L-2350 loader holds the Guinness world record for the world's largest earthmover. But to hold this impressive title doesn't come easy. The design process took two full years to get done, the machine is so big that the standard bucket can hold the equivalent of five dump trucks. One of the biggest problems encountered by the engineers was to create the enormous tires that the L-2350 requires. Being the first from its kinds and size, simply weren't tires available on the market that were big enough to handle the loads the machine could carry. Produced by Komatsu, the L-2350 uses a diesel electric propulsion system similar to that used in a locomotive. Each rubber-tired wheel is driven by its own independent electric motor. Who wouldn't like to take one of these big boys out for a drive?
4. Most expensive wheel loader tires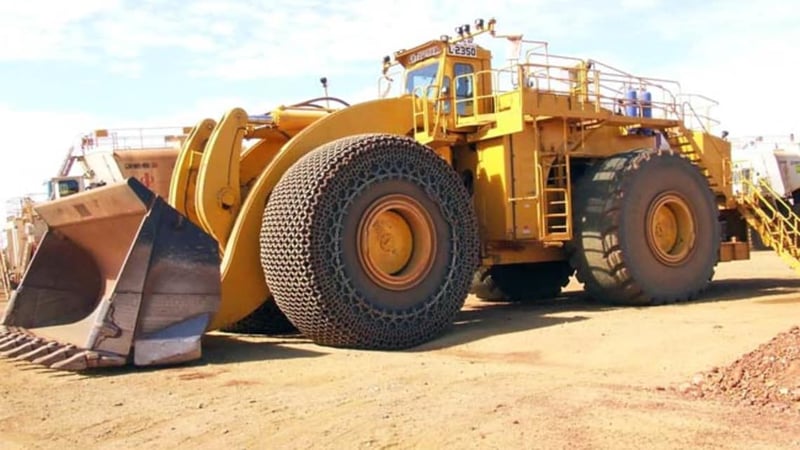 It's no surprise that the trophy of most expensive tires goes to the LeTourneau L-2350. Being one of a kind and never before produced, LeTourneau had to partner with Firestone engineers to design such massive tires that could sustain ultra-heavy loads and rough terrains. Each tire weighs 6.8 tonnes, is 4m in diameter, 1.8m wide and can be covered in chains to extend its life to 12 months. All this awesomeness does come with a big price tag. Each tire costs around USD 63,000 (EUR 56,000).
5. Wheel loaders in the military
Wheel loaders are extremely versatile machines. Besides their dominant presence in construction and mining sectors, they are also used in other ways – including governments and military.
Big cities around the world like Rio de Janeiro – Brazil, implemented wheel loaders into their defense forces. Their special police squad called Batalhão de Operações Policiais Especiais (BOPE) deals on a daily basis with situations where special vehicles are required in order to maintain safety. In this case they use a modified military wheel loader with special shovels that serve as a barrier. With these the BOPE can assist local police forces in getting access to areas they need to be.
Another interesting wheel loader that was modified for military use is the Werklust WG18Edef used by the Dutch defense forces. These modified wheel loaders weigh 15,000 kilos and are powered by a 118 kilowatts 6-cylinder John Deere engine. The Dutch Marine Corps currently use this machine with an adapted mat laying module attachment that is used to lay aluminum mats on the beach. Other models come with a reinforced steel on windows for extra protection – an unpopular decision among its operators as it decreased visibility from within the vehicle.
Big wheel loader manufactures like CAT and JCB have specialist divisions building bespoke wheel loaders for the British and US Army military operations.
6. The future of wheel loaders
In the last couple of years, more and more manufacturers are revealing concepts of modern machines – some of them seemingly coming straight out of science fiction movies. A common theme is emission reduction, but interestingly the manufacturers take different approaches.
At Bauma 2019, Case unveiled the Tetra wheel loader. With a futuristic look and an advanced operator environment, this machine uses natural gas instead of diesel and crunches out 230 horsepower. Case claims it delivers the same performance as its diesel equivalent.
Volvo Construction Equipment is also bringing sustainable technology to the market. Two zero emission machines were launched in April 2019, including the ECR25 excavator and the L25 compact wheel loader. The L25 is fully electric and powered by lithium-ion batteries that allow the machine to work for 8 hours before needing to recharge. The L25 also incorporates two separated electric motors, one for the drivetrain and one for the hydraulics. Aside from environmental advantage, the machines are almost noise free as well.
Also in its concept stages is the full electric Cat compact wheel loader, the Cat 906. The ecofriendly machine generates zero emissions and delivers a very versatile performance. This wheel loader was inspired by the existing Cat 906M but instead of diesel the Cat 906 is powered by a sealed lithium-ion-battery.
Throughout our industry there's so many who love wheel loaders - and rightfully so. They're amazingly powerful and versatile pieces of machinery, come in all sorts and sizes, making them one of the most essential tools at any job site.
Want to stay up to date on current equipment inventory, events, selling prices, news and more? Create a free account on IronPlanet!
Sources
Off-Highway Research, Wikipedia, Komatsu, Mining Technology, Mining Global, Volvo Construction Equipment, Construction Equipment, Construction equipment guide, Industrial Vehicle Technology, Equipment World, Historical Construction Equipment Association, Cat, Sia Magazin, Ministerie van Defensie, The Earthmover Encyclopedia – Book by Keith Haddock