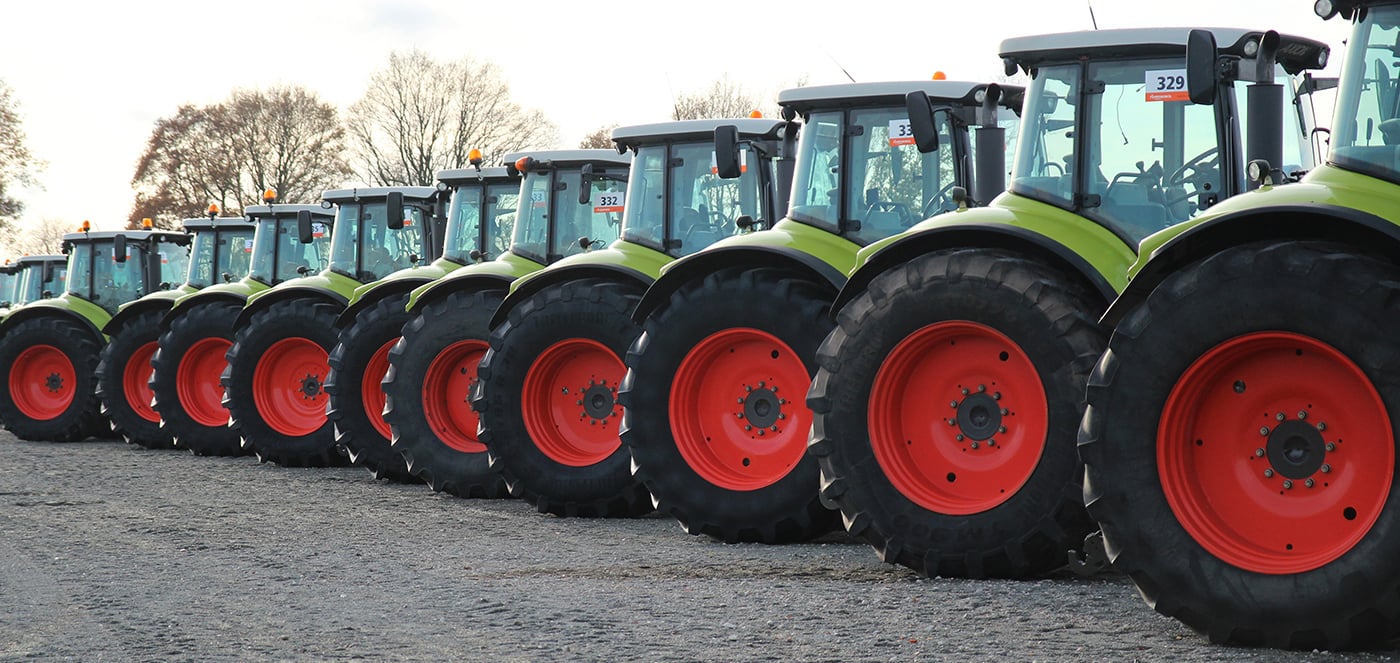 So, you're considering buying a tractor or other piece of farming machinery. Buying it new with the dealer has its advantages, but it can be quite costly. The good news is there are alternatives, and for all budgets. The used tractor market is HUGE and has a lot of choice. There are dealers, brokers, listing websites, auctions and other places to buy from. More and more people are finding what they need at auctions, where there's a large choice available and there is no fixed price. A good deal can be made. But there's also things to be aware about. Here's 6 things to avoid when buying at an auction.
# 1 – Be unspecific what and where to buy
Imagine for a moment you're looking to buy a tractor at an upcoming auction. Spend time specifying what exactly your need is and a good exercise is to write it all down. What type, make, model, year, condition are you looking for? How long will you be using the machine for? In the moment auctions can be quite rapid, so as a buyer you can certainly benefit from a solid preparation.
The internet is filled with auction inventories and you'll soon come across items of interest. Make sure to do a good background check on the auction company where the equipment is being sold. Do they run a reliable business? What's their history, do you have friends that have had experiences? A good tip: Go old-school and call the auction company. Ask all your questions. Doesn't feel right? Look for another company.
#2 – Thinking all auctions are the same
Some auctions are held online only, others are on-site (physical) auctions. On-site auctions are lively, exciting events (ever been to a Ritchie Bros. auction?) with an auctioneer 'chanting' the asking prices to the crowd. You can personally view items of interest before bidding and when in need of assistance you can immediately find staff to help you out. Luckily, many typical onsite auctions also offer online bidding options, so you can join from anywhere in the world. There's also auctions that are held exclusively online. Perhaps less exciting but in some respects they are more practical, as you can do everything from the comfort of your home, office or even on the way. Different auctions have different buyer fee structures, so inform yourself before you start bidding.
Bidding on the move? Check out the Ritchie Bros. mobile app.
#3 – Not knowing what you buy
Especially when buying used equipment, you need to reach a level of buyer confidence before you place that first bid. At auctions items are often sold on an 'as is, where is' basis at auctions, which means there are no guarantees. This can be fine as long as you can view the item in person or at least get a lot of details and photos online. Some auction companies offer quality assurance. For example, IronPlanet offers a quality assurance certificate (IronClad Assurance) which is even backed by DEKRA. An image says more than a thousand words – but a detailed inspection report or personal inspection says even more. Live onsite auctions usually have viewing days, so it's highly recommended you (or someone you know) travels to the auction location to inspect before bidding. It's normal to be thorough when preparing for an auction, get all the details you need to make the best decision. You'll quickly find which items make it to your bid-list.
#4 – Go in without a budget
Pro-bidders at auctions do their homework and know beforehand what they want to buy. They've seen the items up close, estimated market price values and determined their spending limit.
There are tools available to determine what the market price of a used machine is. With a free account on Ritchie Bros.' website or IronPlanet's website you can access thousands of past selling prices. A great tool for helping set budgets. Determine for yourself what would be a good price to buy and what your maximum bid would be. If someone else would outbid you at that point, would you raise one last time or stop? Bidding at an auction can be exciting but staying calm in the moment is often the key to winning the deal.
#5 - Ignore total cost of purchase
Buying used can be a good economical decision. Now you know what you want, where you can buy it and you've set your budget. Great! Go one step further and look at the total cost of purchasing a tractor or other item before you can get it to work. It's common for auctions to charge a buying fee, usually a percentage of the auction price. When viewing the machine before, try to calculate in any direct maintenance or repair cost. Lastly, consider the additional cost of transporting your purchase to where it needs to be. Often times auction companies offer additional transport services.
#6 - Be uninformed about events and good deals
A great way to prepare for buying used machinery at auctions is to sign up for (free) newsletters. You'll receive upcoming auctions, inventory highlights, news and other information. You can always unsubscribe if you don't like the newsletters.
Shopping for used farming machinery in November? Don't miss Europe's largest agricultural auction in Meppen (Ritchie Bros. Auctioneers) on Nov 20-21, and the IronPlanet online auction on November 28, 2019. More details here: ironplanet.com/November
Going to Agritechnica this year? Come and visit Ritchie Bros. & IronPlanet at stand H2.D07. Great way to learn more about auctions!