They say it's not what you've got, it's how you use it. As so in love, technology and business, you're probably not getting the most out of the IronPlanet experience without a holistic understanding of all the tips and tricks at your disposal, even if you're already an IronPlanet fanatic.
We understand there can be a bit of a learning curve to the platform, so we've put together a straightforward guide on the most essential features that'll help you master our online buying process. Once you've got a handle on these fundamentals, you'll possess the know-how it takes to utilize IronPlanet to its fullest every visit moving forward.
1. Get a free IronPlanet account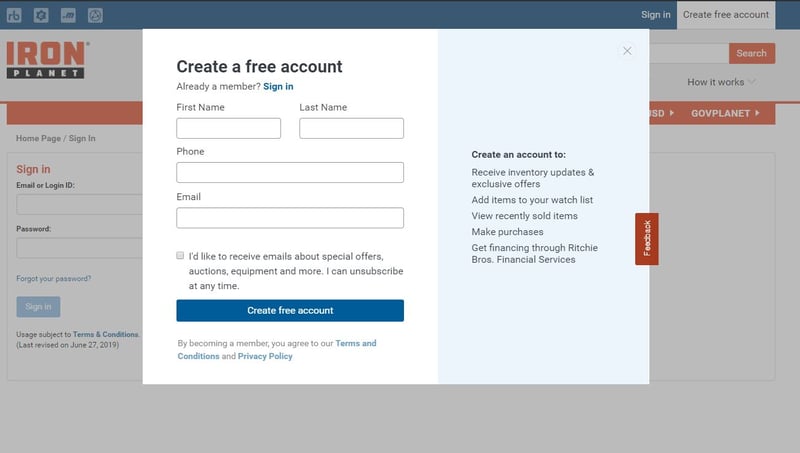 Create a free IronPlanet account and get access to multiple cool features. In addition, you'll receive regular email updates on inventory highlights, upcoming events and news! Only takes a minute to create an account and you're good to go!
2. PriorityBid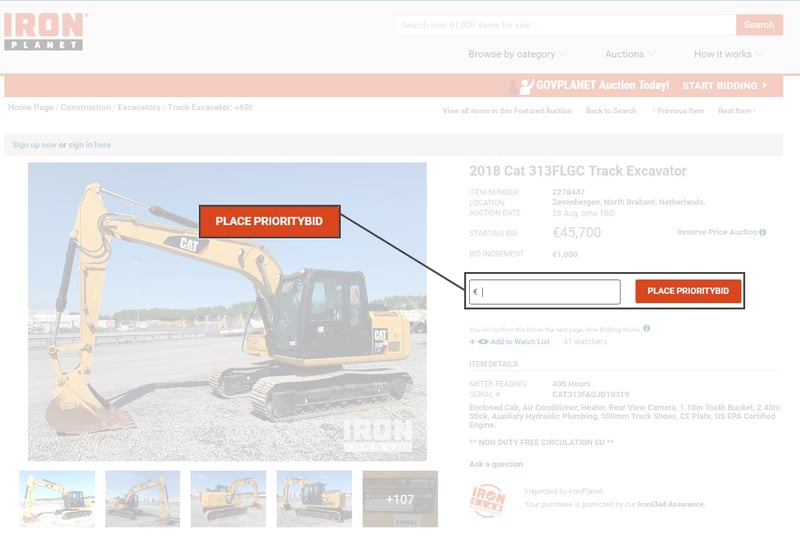 Before an auction goes live, you can place a PriorityBid to get ahead of the competition for up to two weeks prior. Although active bidding may appear disabled, the action is hot during this preliminary phase as early birds fight for the advantage of top opening bid.
Placing a PriorityBid is safe and easy. Once you enter your max bid amount, our PriorityBid system will automatically place minimum raises for you up to your max to keep you in the lead. That way, you can set-and-forget your bids to get the equipment you need at the best price possible, even when you're too busy to micromanage a bidding war. If there's a tie then it's first come, first serve -- the earliest PriorityBid wins!
3. Search Filters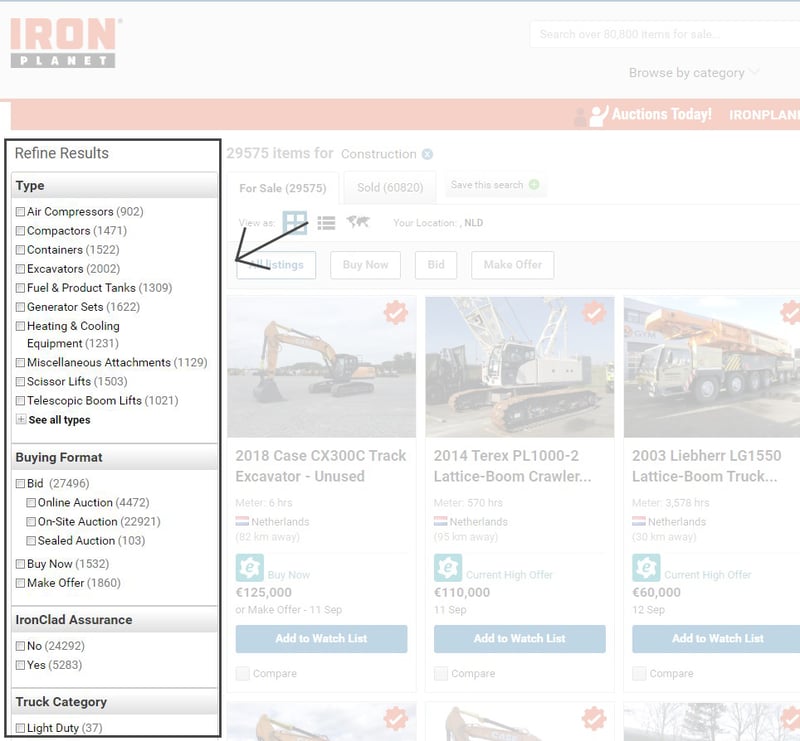 Find what you're looking for on IronPlanet with the Search Filter tool that is located on the left side of the screen on each page. There are several filters that you can apply to refine results - type, buying format, equipment make, location, price and more. Finding your dream equipment was never so easy!
4. Watch List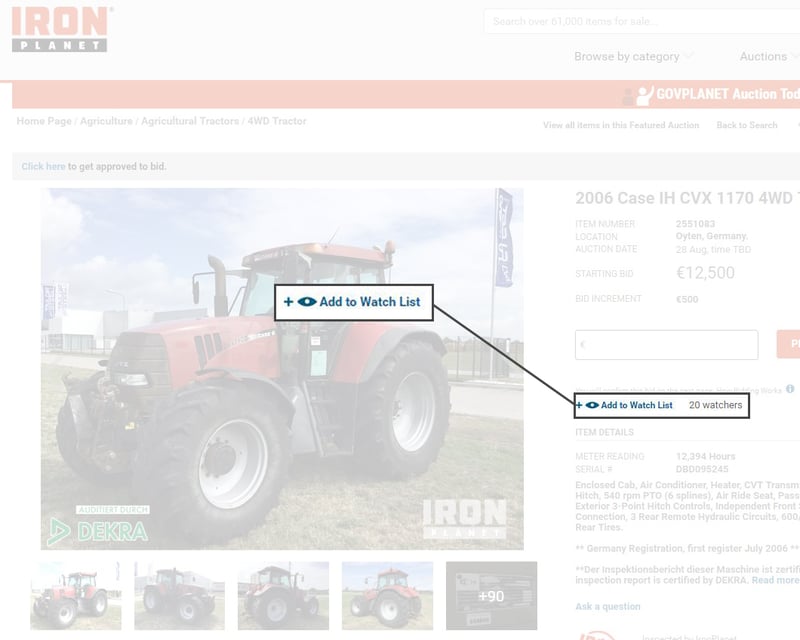 Create a Watch List to keep tabs on all items of interest and increase productivity. You can find the Watch List feature on each item page, and easily refer to your items through My Account. Once you've worked the Watch List into your routine, you'll be getting updates and reminders as an auction approaches to ensure you never miss out on an item again.
5. Saved Searches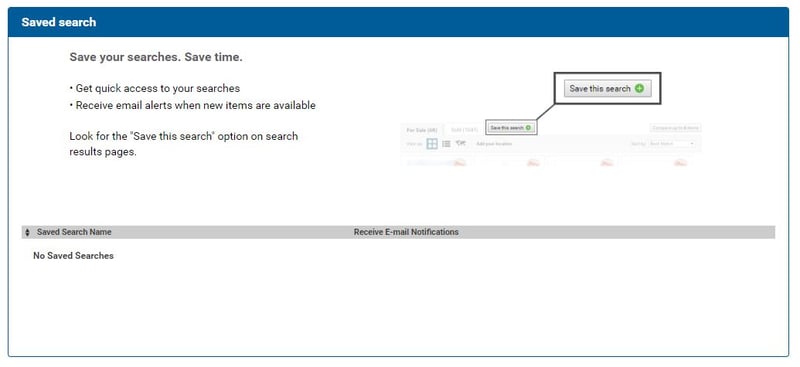 Can't find what you're looking for? Look for the "Save this search" button on your search results page to archive specific queries and receive email alerts when matching items are added to the inventory. Taking advantage of saved searches is a great way to keep on top of all the latest listings so you can find the perfect piece of equipment, even if the current selection isn't quite what you're looking for.
6. Research Prices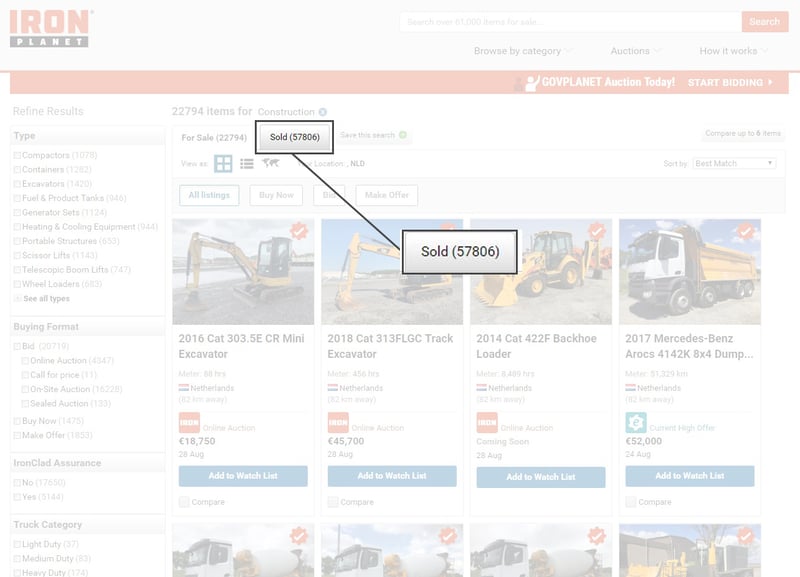 On our search results page, logged-in users will find a "Sold" tab that is an excellent resource for both buyers and sellers to gain insight into going prices. Taking a look at recently sold items is a great way to see whether it's the right time to pull the trigger on a particular item or put legacy machines in your fleet up for sale.
7. Personalized Assistance
Having trouble to navigate on the website or have any other questions? We can help you – simply contact our customer care and we will be happy to answer your questions.
Now that you're an IronPlanet.com blackbelt, head back over to our marketplaces and put your new skills to use to buy used construction equipment, tractors, trucks and more.