Cat Auction Services and Finning buy and sell all makes and models
Canadians are astute shoppers, especially when all of their NHL hockey teams are waiting till next year. They're also seasoned navigators of the mysteries of brand names. They know that Canadian Tire sells more than just tires; that Tim Hortons offers coffee and donuts, not Maple Leaf memorabilia and Hudson's Bay anchors not boats in harbour, but shopping malls.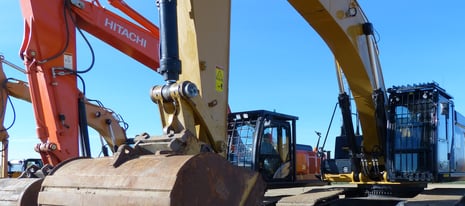 On the Canadian stage, Cat Auction Services is a relatively new brand. Understandably, some Canadian equipment owners still believe that the new kid on the live auction block only deals with the Caterpillar brand. If that's your assumption Canada, as Canadian Jeopardy host Alex Trebek would say, "sorry but you are incorrect."
Through its Unreserved Public Auctions, Cat Auction Services handles all makes and models of used equipment on consignment, from Sweden's Atlas Copco through to China's Zoomlion. It's a truth one Grande Prairie area equipment owner, looking to restructure his fleet, happily discovered a few months back. "He had 24 machines he was planning to consign to one of our well-known competitors," says Greg Robinson, Finning equipment sales rep. "But when he found out that Cat Auction Services could handle all of his equipment, both Cat and non-Cat, he was impressed. He said 'this is a game changer' and opted to go with us."
Since last August, when Canadian heavy equipment icon Finning signed an agreement to jointly market used heavy equipment of all brands through Cat Auction Services, the word has been slowly spreading through Finning's Canadian territory which includes BC, Alberta, Saskatchewan, Yukon and the Northwest Territories. Finning's equipment sales team is busy advising customers about the new auction channel, which is particularly attractive these days thanks to the low Canadian dollar, a strengthening US economy and Cat Auction Services/IronPlanet's global reach of 1.5 million online bidders.
"My role is to help customers explore their disposal options and bring any potential auction business to the attention of Cat Auction Services," says Finning sales rep Grant Dykstra. "Our customers want to make sure they maximize the dollars that they get out of their old equipment. Cat Auction Services helps them do that by getting their machines in front of a global market combined with the backing of the Cat dealership that they've come to rely on."
Stats from the latest Cat Auction Services auction, held at the River Cree on March 30, indicate awareness of Cat Auction Services capabilities is growing in western Canada. "We're gaining momentum," confirms Chris Huot, territory manager for IronPlanet in Alberta. "We're giving our customers another choice than what they think of traditionally when they're looking to sell or buy equipment at an auction."
Consignments for the next Cat Auction Services auction to be held June 22 are now being accepted - for all makes and models from ATVs and dozers to wheel loaders and Zambonis. Talk to your Finning representative for more information and discover the difference Cat Auction Services can make.