When you live in the California Bay Area like many IronPlanet staffers do, there are things you take for granted. Some of them are awesome, some of them, not so much.
In the awesome column we have: wearing shorts well into October, ski slopes within an afternoon's drive, and enough sporting events in any weekend to make grown men weep like little school children.
In the not so much column let's write down: traffic, annoying people in coffee lines, and let's see. . . oh yeah, earthquakes. Big honking earthquakes that make freeways roll like a 1970s waterbed. Like this: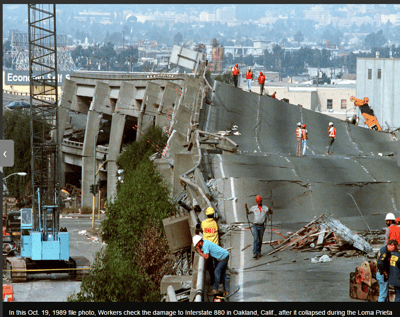 IronPlanet mentions it because this week marks the 27th anniversary the Loma Prieta earthquake rocked our world. It was weird, it hit the "reset" button on our psyches. As soon as the dust settled, people manned their equipment and tools to put highways, homes, and businesses back on their foundations, and in the doing, got shell-shocked residents back on their feet.
A safer, better, more productive way to rock your world is by checking out IronPlanet's October 20 online auction. Reliable Komatsu excavators, Cat crawler tractors, mini excavators and trenchers from JCB, and trucks from Kenworth, Peterbilt, and Volvo.

Enclosed Cab, Air Conditioner, Heater, 11' 1" Stick, Rear View Camera, 78" Bucket, Auto-Lube System, 35 1/2" Track Shoes, Ultra Low Sulfur Diesel.
Open Operator Station, 4WD w/ 3 Way Steering, 10,000 lb. Max Weight Capacity, 54' 8" Max Lift Height, 48" Forks, Manual Coupler, Frame Leveling, Outriggers, Auxiliary Hydraulic Plumbing, Diesel Engine, 17.5-25 Foam Filled Tires.
Open Operator Station, 24" Tooth Bucket, Hydraulic Coupler, 4' 10" Stick, Auxiliary Hydraulic Plumbing, 14" Track Belts
Enclosed Cab, Air Conditioner, 13' 3" Wide Straight Blade w/ Tilt, Heater, Drawbar, Air Ride Seat, Differential Steering, 36" Single Grouser Track Shoes
Cummins ISX15 15L Engine, 450 Adv Horsepower, Engine Brake, Eaton Fuller 10 Speed Manual Transmission, 170" WB, 12,000 lb Front Axle, 40,000 lb Rears, Air Ride Cab, Air Ride Suspension, Fixed 5th Wheel, Sun Visor, Roof Fairing, Chrome Bumper, Air Conditioning, Cruise Control, Power Windows, Power Locks, Power Mirrors, Heated Mirrors, Tilt Steering Wheel, Telescopic Steering Wheel
You never know when a Humvee will come in handy. Take a look at the GovPlanet auction on October 19 featuring Humvees. telehandlers, crawler tractors, and more.