PLEASANTON, CALIF and EDMONTON, ALBERTA –
IronPlanet, the leading online marketplace for used heavy equipment and trucks, and Finning International Inc. (TSX:FTT), the largest Cat® dealer in the world, today announced that Finning has agreed to jointly market used heavy equipment through Cat Auction Services, IronPlanet's unreserved auction marketplace. Finning will be hosting IronPlanet's first Canadian Cat Auction Services live unreserved public auction on Wednesday, October 21, 2015, in Edmonton, Alberta.
"We are excited to partner with Finning and to announce our first physical auction in Canada," said Gregory J. Owens, IronPlanet Chairman and CEO. "Our alliance with Finning supports IronPlanet's critically important Canadian expansion efforts and furthers our ability to service our customers in Canada – and internationally – given Finning's presence in South America, the United Kingdom and Ireland. IronPlanet is building the strongest used heavy equipment marketplace in the industry by offering our buyers access to a wide selection of used construction equipment, oil and gas services equipment and trucks across multiple auction platforms. We are pleased to be working with Finning, a leader in the world of heavy equipment, to serve customers globally."
Finning customers will benefit from the industry's most efficient heavy equipment distribution channel for their asset management needs. IronPlanet and its Cat Auction Services live auction platform will assist Finning and their customers to realize the best returns in their asset disposal process by reaching IronPlanet's 1.4 million global registered users. IronPlanet customers will benefit from Finning's international presence and the opportunity to buy or sell quality used heavy equipment across multiple geographies. Buyers will be able to buy with confidence as all equipment sold will be backed by IronPlanet's exclusive IronClad Assurance®, which assures an accurate representation of equipment condition.
"Finning is excited about this new alliance and we look forward to leveraging this global marketplace to provide value for our customers," said Juan Carlos Villegas, Finning International chief operating officer and Finning Canada president. "We are looking forward to holding the first ever Cat Auction Services event in Canada later this year and combining the best of what IronPlanet and Finning have to offer."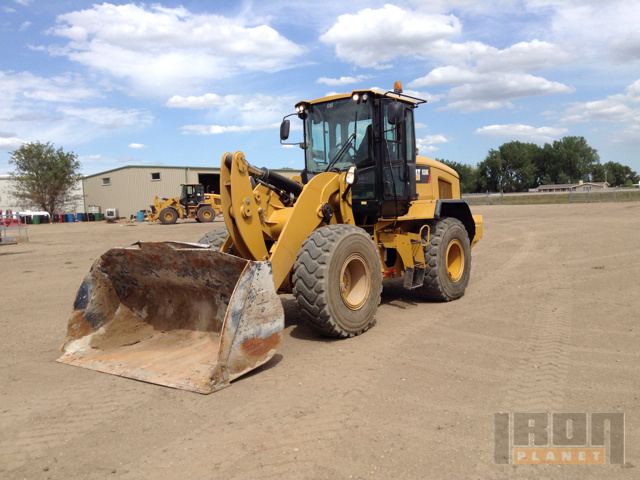 Auction Details
Date:
Wednesday, October 21, 2015
To Consign:
Preview Location:
Acheson Road West
825 – 53016 HWY 60
Acheson, Alberta
Auction Location:
Marriott Resort Edmonton River Cree
300 East Lapotac Blvd.
Enoch, Alberta
IronPlanet has secured property on Acheson Road West to host its Cat Auction Services live unreserved auctions in Canada. With Finning joining Cat Auction Services, IronPlanet significantly expands its reach into Canada and its ability to give sellers and buyers the choice of attending one of Cat Auction Services live auctions in Canada or participating in IronPlanet's weekly online auctions. IronPlanet and Cat Auction Services merged on April 1, 2015.
About Finning
Finning International Inc. (TSX:FTT) is the world's largest Caterpillar equipment dealer delivering unrivalled service to customers for over 80 years. Finning sells, rents and services equipment and engines to help customers maximize productivity. Headquartered in Vancouver, B.C., the Company operates in Western Canada, Chile, Argentina, Bolivia, Uruguay, as well as in the United Kingdom and Ireland.


About IronPlanet
IronPlanet is the leading online marketplace for used heavy equipment and an innovative participant in the multi-billion dollar heavy equipment auction market. Since 2000, IronPlanet has sold over $4 billion of used equipment online and has built a database of more than 1.4 million registered users worldwide. IronPlanet connects buyers and sellers of used equipment with its exclusive IronClad Assurance® buyer protection program and family of sites including IronPlanet®, GovPlanet®, TruckPlanet®, Cat Auction Services, Kruse Energy and Equipment AuctioneersSM, allEquip® and Asset Appraisal ServicesSM. IronPlanet is backed by Accel Partners, Kleiner Perkins Caufield & Byers, Caterpillar and Volvo. For more information, visit www.ironplanet.com.
Forward-looking information:
This report contains statements about the Company's business outlook, objectives, plans, strategic priorities and other statements that are not historical facts. A statement Finning makes is forward-looking when it uses what the Company knows and expects today to make a statement about the future. Forward-looking statements may include words such as aim, anticipate, assumption, believe, could, expect, goal, guidance, intend, may, objective, outlook, plan, project, seek, should, strategy, strive, target, and will. Forward-looking statements in this report include, but are not limited to, statements with respect to: expectations with respect to the economy and associated impact on the Company's financial results; expected revenue; expected free cash flow; EBIT margin; ROIC; market share growth; expected results from service excellence action plans; anticipated asset utilization; inventory turns and parts service levels; the expected target range of the Company's net debt to invested capital ratio; and the expected timing and financial impact from the proposed acquisition of the operating assets of the Caterpillar dealership in Saskatchewan. All such forward-looking statements are made pursuant to the 'safe harbour' provisions of applicable Canadian securities laws.
Unless otherwise indicated by us, forward-looking statements in this report reflect Finning's expectations at August 25, 2015. Except as may be required by Canadian securities laws, Finning does not undertake any obligation to update or revise any forward-looking statement, whether as a result of new information, future events, or otherwise.
Forward-looking statements, by their very nature, are subject to numerous risks and uncertainties and are based on several assumptions which give rise to the possibility that actual results could differ materially from the expectations expressed in or implied by such forward-looking statements and that Finning's business outlook, objectives, plans, strategic priorities and other statements that are not historical facts may not be achieved. As a result, Finning cannot guarantee that any forward-looking statement will materialize. Factors that could cause actual results or events to differ materially from those expressed in or implied by these forward-looking statements include: general economic and market conditions; foreign exchange rates; commodity prices; the level of customer confidence and spending, and the demand for, and prices of, Finning's products and services; Finning's dependence on the continued market acceptance of Caterpillar's products and Caterpillar's timely supply of parts and equipment; Finning's ability to continue to improve productivity and operational efficiencies while continuing to maintain customer service; Finning's ability to manage cost pressures as growth in revenues occur; Finning's ability to reduce costs in response to slowing activity levels; Finning's ability to attract sufficient skilled labour resources to meet growing product support demand; Finning's ability to negotiate and renew collective bargaining agreements with satisfactory terms for Finning's employees and the Company; the intensity of competitive activity; Finning's ability to raise the capital needed to implement its business plan; regulatory initiatives or proceedings, litigation and changes in laws or regulations; stock market volatility; changes in political and economic environments for operations; the integrity, reliability, availability and benefits from information technology and the data processed by that technology. Forward-looking statements are provided in this report for the purpose of giving information about management's current expectations and plans and allowing investors and others to get a better understanding of Finning's operating environment. However, readers are cautioned that it may not be appropriate to use such forward-looking statements for any other purpose.
Forward-looking statements made in this report are based on a number of assumptions that Finning believed were reasonable on the day the Company made the forward-looking statements. Refer in particular to the Outlook section of this MD&A. Some of the assumptions, risks, and other factors which could cause results to differ materially from those expressed in the forward-looking statements contained in this report are discussed in Section 4 of the Company's current AIF.
Finning cautions readers that the risks described in the AIF are not the only ones that could impact the Company. Additional risks and uncertainties not currently known to the Company or that are currently deemed to be immaterial may also have a material adverse effect on Finning's business, financial condition, or results of operations.
Except as otherwise indicated, forward-looking statements do not reflect the potential impact of any non-recurring or other unusual items or of any dispositions, mergers, acquisitions, other business combinations or other transactions that may be announced or that may occur after the date hereof. The financial impact of these transactions and non-recurring and other unusual items can be complex and depends on the facts particular to each of them. Finning therefore cannot describe the expected impact in a meaningful way or in the same way Finning presents known risks affecting its business.

###