GovPlanet to Exhibit at Association of the United States Army (AUSA) Annual Meeting and Exposition, October 3 - 5, 2016 in Washington DC
PLEASANTON, Calif. – GovPlanet, an IronPlanet® marketplace dedicated to selling used government equipment for federal, state and municipal entities, celebrates the second anniversary of its launch and enters its third year as an expanded solutions platform that reaches buyers around the world from online auctions in the U.S. and Europe.
"Our growth both geographically and through our product offerings underscores the success of GovPlanet in just two short years," said Jeff Holmes, senior vice president, Government Solutions and Auction Management, IronPlanet. "Since launching in November 2014 and selling the very first Humvee in a public auction with more than 100,000 attendees online that day, to where we are today selling construction equipment, trucks, pump and power gear, and other surplus items with remaining useful life to our 1.5 million registered users around the world is truly rewarding.
"With our technology we have proven that we can sell equipment in half the time of traditional options for three-times the return in most cases. That is money that goes into reducing government expenditures in the future and essentially back into tax payers' pockets," Holmes continued.
GovPlanet is returning this year and will be showcasing its innovative technology at the Association of the United States Army's (AUSA) Annual Meeting & Exposition, October 3 - 5, 2016, at the Walter E. Washington Convention Center in Washington, D.C. GovPlanet will be located in Hall D/E, Booth #8230.
Online. Every Week. GovPlanet sells between 350 and 400 items per week, to buyers in the U.S. and internationally. Equipment is used, but many machines, like construction equipment can be very low-hour, whereas, with Humvees and trucks, like Stewart & Stevenson LMTV's condition can vary, which is reflected in their descriptions.
Top Selling Equipment. GovPlanet has sold nearly 5,000 Humvees for more than $40 million in gross merchandise value, and more than 3,500 cargo trucks. In addition to the DLA, GovPlanet has sold equipment for the U.S. Marine Corps and NAVFAC, among other municipal sellers. Top five sellers by value and type since GovPlanet's November 2014 launch are: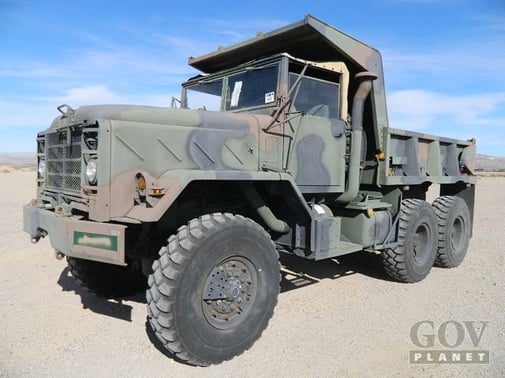 Top Selling Items by Total Value

Top Selling Item by Type

· HMMWVs ("Humvees")

· Five-ton 6x6 Cargo Trucks

· T/A Conventional Day Cabs

· Crawler Tractors 100hp-500hp

· LMTV 4x4 Cargo Trucks

· HMMWVs ("Humvees")

· Five-ton 6x6 Cargo Trucks

· S/A Utility Trailers

· T/A Conventional Day Cabs

· T/A Flatbed Trailers
Proven Inspections. Equipment sold on GovPlanet is inspected by a professional and comes with IronPlanet's IronClad Assurance® equipment condition certifications, which mean bidders can buy with confidence knowing that what they bought online is what shows up on their lot, in the condition described.
2015 – 2016 GovPlanet Milestones
DLA Exercised first of four extensions on IronPlanet's exclusive surplus rolling stock contract. On August 8, 2016, IronPlanet announced that the U.S. Department of Defense's Defense Logistics Agency (DLA) had executed its option to extend its Commercial Venture 4-Rolling Stock (CVR-4) contract. This is the first of four one-year extensions and comes after a successful launch and two-year partnership that has returned three-times prior proceeds to the DOD.
Launched GovPlanet EU. After one year of successful DLA equipment auctions in Europe, GovPlanet EU was formally launched at DVD2016 in the U.K. in early September 2016. GovPlanet EU recently won its first local government contract with the Fife Council, and is working closely with the Ministry of Defense and emergency services to help modernize their approach to equipment disposals. David Shouesmith, retired major-general, British Army, and former PwC Senior Director, joined IronPlanet earlier this year to lead the European expansion of GovPlanet EU.
Launched GovPlanet DirectSM, a new self-listing service. As part of its marketplace serving all public entities, GovPlanet extended IronPlanet's technology platform to include a do-it-yourself component, GovPlanet Direct, so that sellers can dispose of all equipment on one online marketplace. This is especially relevant for state and local governments who turn all types of equipment frequently.
IronPlanet named an NJPA Contract Award Vendor. In June, IronPlanet was awarded a National Joint Powers Alliance® (NJPA) contract for procurement of "Surplus Auction Services with Related Solutions." This award allows NJPA's 50,000 member agencies to procure GovPlanet's disposition services on pre-established terms.
About GovPlanet
IronPlanet launched GovPlanet in 2014 to address the specialized equipment disposition needs of public entities, from federal, including military, to state, local and municipal. The first online auction was held on November 19, 2014, and on December 17, 2014, GovPlanet made history by offering the first Humvees (High Mobility Multipurpose Wheeled Vehicles or HMMWVs) to the public. Each week, on average, GovPlanet draws 70,000 or more attendees to its online auctions. Items go into preview two weeks in advance and bidders can view photos, video and inspection reports. All items sold on GovPlanet have been inspected and come with IronPlanet's exclusive IronClad Assurance® equipment condition certifications, which give bidders the confidence to buy online from anywhere in the world.
About IronPlanet
IronPlanet is a leading online marketplace for selling and buying used equipment and other durable assets and an innovative participant in the multi-billion dollar used equipment market. Founded in 1999 to transform the global used equipment market, IronPlanet has built a database of more than 1.5 million registered users worldwide. IronPlanet connects buyers and sellers of used equipment with its exclusive IronClad Assurance® equipment condition certification and family of brands, including IronPlanet®, GovPlanet®, TruckPlanet®, Cat Auction Services, Kruse Energy & Equipment AuctioneersSM, allEquip® and Asset Appraisal ServicesSM. IronPlanet is backed by Accel Partners, Kleiner Perkins Caufield & Byers, Caterpillar and Volvo. For more information, visit www.ironplanet.com.