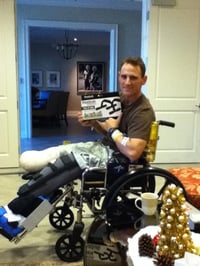 Is it too soon to start talking about shopping for a cause? Not when the shopping is about Humvees, and the cause is Fisher House. But first, IronPlanet wants to introduce you to Eric McElvenny - former U.S. Marine Captain stationed in Afghanistan, devoted husband and father, beloved son, and Ironman athlete.
On December 9, 2011, Eric stepped on an IED in the tiny village of Now Zad in Afghanistan, resulting in the loss of his right leg below the knee. He was treated overseas and transported to the Navy Medical Center in San Diego, near his home, for rehabilitation. His parents and a sister flew from Pennsylvania and stayed at a Fisher House during the weeks of his recovery.
Fisher House is a non-profit organization that operates comfort homes where families of military vets can stay free of charge while their loved ones receive treatment. The homes are built at military and VA medical centers across the country and gifted to the government.

"The Fisher House was where we spent Christmas in 2011. It's an experience I will never forget," wrote Eric. "My daughter was excited that we were together for Christmas. We put presents around the tree and Christmas morning was the first time I left my hospital floor. I made a field trip to have Christmas morning together at the Fisher House before my mom prepared a wonderful meal."
After two months, Eric received his prosthetic leg; after three months he was walking without a cane. At nine months, he participated in a sprint-distance triathlon. Twenty-two months after his injury, he completed his first Ironman triathlon. He currently has four Ironmans under his belt, with a PR of 11 hours 22 minutes. Eric's goal is to be the fastest amputee in Ironman history.
"We love the Fisher House. What a relief it was for my parents to have somewhere to stay so close to me. It was one thing they didn't have to worry about. When people ask me what charities to donate to, I always recommend the Fisher House," Eric said.
Here's where you and your future Humvee come in. To support Fisher House in the meaningful work they perform, GovPlanet will donate a portion of the proceeds from the all-Humvee auction on November 15. Since opening its doors to the first house in 1990, Fisher Houses have served more than 277,000 families and saved them more than $320 million in lodging and transportation costs.
Be a hero to our heroes! Everybody wins during the November 15 all-Humvee auction.