PLEASANTON, Calif. – Jan. 28, 2015 – IronPlanet, the leading online marketplace for buying and selling used heavy equipment and trucks, will showcase U.S. military Humvees in Kissimmee, Fla., Feb. 11 – 13 at IronPlanet's joint live unreserved public auction with Cat Auction Services. The Humvees will be sold by GovPlanet, an IronPlanet online marketplace for buying and selling used government assets, during its Feb. 18 auction at www.govplanet.com.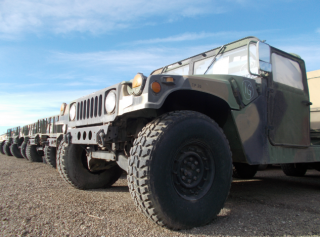 IronPlanet will donate a portion of the proceeds from the sale of these showcased Humvees to Folds of Honor, a not-for-profit organization that provides post-secondary educational scholarships and assistance to the families of the military service men and women killed or disabled while in active service to America.
"The Humvees draw a huge amount of interest to GovPlanet.com, and we are excited to leverage this opportunity to raise awareness for this unique organization and the educational needs of the families of service men and women it serves," said Gregory J. Owens, IronPlanet Chairman and CEO. "We are honored to support Folds of Honor and invite the public to view these iconic military Humvees as well as contribute at our upcoming event in Florida."
"We are thrilled that IronPlanet has chosen to give to Folds of Honor and help fund the many programs and scholarships that we provide to military families," said Major Dan Rooney, Folds of Honor Founder. "The funds we raise provide life-changing support to the families of American service men and women. We truly appreciate being part of IronPlanet's and Cat Auction Services' Florida event and the upcoming GovPlanet auction."
GovPlanet sold the first Humvees made available to the public by the U.S. Department of Defense (DoD) during an online auction held in December 2014. The auction attracted more than 111,000 unique visitors, and final sale prices for the Humvees were as high as $41,000.
The Humvees will be onsite at the IronPlanet and Cat Auction Services joint auction to take place at 5000 Oren Brown Rd., Kissimmee, Fla., Feb. 11-13. The auction starts at 9 a.m. daily. The joint auction will feature more than 1, 400 items; buyers around the world will also be able to view and bid on the full list of items at IronPlanet's online marketplace at www.ironplanet.com and at www.catauctions.com.
IronPlanet and Cat Auction Services announced on Dec. 19, 2014, that they had signed an agreement to merge. The transaction is subject to regulatory approval and other standard closing conditions, and is anticipated to be completed during the first quarter of 2015. The transaction is not subject to the Federal premerger waiting period. The IronPlanet and Cat Auction Services joint auction is being conducted pursuant to a joint venture agreement, which is independent of the proposed merger.
About Folds of Honor Based in Owasso, Okla., Folds of Honor is a 501(c)(3) charitable organization with a mission to empower military families by providing educational scholarships and assistance for the children and spouses of military service men and women killed or disabled while serving our great nation. Since its inception, Folds of Honor has awarded more than 8,500 educational scholarships to military families. For more information or to make a donation, visit FoldsofHonor.org. Connect with Folds of Honor on Facebook (www.facebook.com/foldsofhonor) and Twitter (www.twitter.com/foldsofhonor).
About IronPlanet IronPlanet is the leading online marketplace for used heavy equipment and an innovative participant in the multi-billion dollar heavy equipment auction market. Since 2000, IronPlanet has sold over $4 billion of used equipment online and has built a database of more than one million registered users worldwide. IronPlanet connects buyers and sellers of used equipment with its exclusive IronClad Assurance® buyer protection program and family of sites including IronPlanet®, GovPlanetSM, TruckPlanet®, Kruse Energy and Equipment AuctioneersSM, allEquipSM and Asset Appraisal ServicesSM. IronPlanet is backed by Accel Partners, Kleiner Perkins Caufield & Byers, Caterpillar, Komatsu and Volvo. For more information, visit www.ironplanet.com.
No Offer or Solicitation This announcement is for informational purposes only and is neither an offer to purchase, nor a solicitation of an offer to sell, subscribe for or buy any securities or the solicitation of any vote in any jurisdiction pursuant to the proposed transaction or otherwise, nor shall there be any sale, issuance or transfer of securities in any jurisdiction in contravention of applicable law. ###