Cat Auction Services Event Includes Large Selection of Equipment in Waynesburg, PA on May 17, 2017
Who:

IronPlanet®, a leading online marketplace for selling and buying used equipment and other durable assets, today announced highlights for its upcoming Pittsburgh area Cat Auction Services Unreserved Public Auction. This on-site sale marks IronPlanet's return to the Keystone State and will include over 440 pieces of quality, used equipment.

The event will feature Elite Oilfield Services one-owner liquidation of oilfield equipment, as well as a wide array of low-hour, new and late-model equipment from Caterpillar, JLG, Genie, John Deere, Bobcat, Kenworth and more. Items range from: Crawler Dozers, Skid-Steer Loaders, Wheel Loaders, Trucks, Compact Track Loaders, Oil & Gas Drilling Equipment and much more.

For those unable to make it to the on-site sale, they can bid on the equipment of their choice with IronPlanet® LiveStreamTM, the next generation in online bidding for live, on-site auctions. Additional details for the event are available here.

When:

Wednesday, May 17, 2017

9:00 a.m. ET

Equipment preview on-site: Monday, May 15 and Tuesday, May 16 from 8:00 a.m. - 5:00 p.m. ET

Equipment preview online available now. Click here for more info.

Where:

On-site at Elite Oilfield Services, located at

407 Jefferson Road

Waynesburg, PA 15370

or

Online at www.ironplanet.com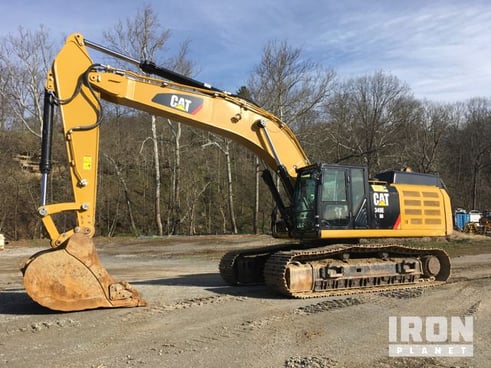 Featured Equipment Includes:
* See IronPlanet's Pittsburgh area auction online for the most current equipment list and information.
Look for IronPlanet's IronClad Assurance® equipment condition certification on equipment listed on IronPlanet, TruckPlanet®, GovPlanet®, and catauctions.com, which gives buyers the confidence to buy online knowing that they have an accurate representation of equipment condition. Equipment Protection Plans from Cat Financial may be available on qualified Cat® equipment, which will be noted in the auction catalog.
About IronPlanet
IronPlanet is a leading online marketplace for selling and buying used equipment and other durable assets and an innovative participant in the multi-billion dollar used equipment market. Founded in 1999 to transform the global used equipment market, IronPlanet has built a database of more than 1.7 million registered users worldwide. IronPlanet connects buyers and sellers of used equipment with its exclusive IronClad Assurance® equipment condition certification and family of brands, including IronPlanet®, GovPlanet®, TruckPlanet®, Cat Auction Services, Kruse Energy & Equipment AuctioneersSM, allEquip® and Asset Appraisal ServicesSM. IronPlanet is backed by Accel Partners, Kleiner Perkins Caufield & Byers, Caterpillar and Volvo. For more information, visit www.ironplanet.com.