If you need to add a wheel loader to your equipment fleet or if you need to replace an aging wheel loader, you'll find a huge selection from all the top manufacturers for sale online at IronPlanet and Marketplace-E, and at Ritchie Bros. onsite auctions. But before you head out to inspect the wheel loader that interests you, read our five equipment inspections tips for wheel loader buyers.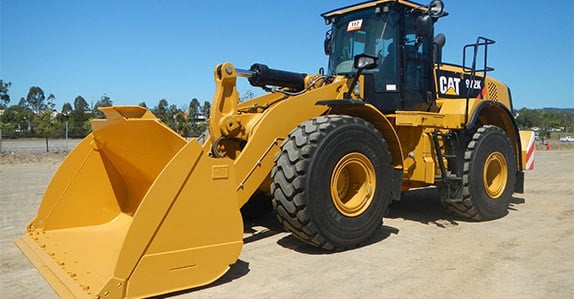 1. Wheel loader bucket, bucket teeth, bucket cutting edge and lift arms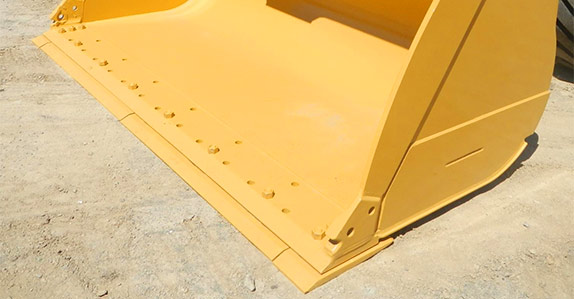 Beginning at the front of the bucket, check for any missing or loose bucket teeth. Continue on from the bucket teeth and look at the bucket leading edge and side panels, making note of any cracks, excessive wear, or repairs such as welds. If the bucket is attached to the wheel loader lift arms via a quick connect coupling system, check the coupling system for any loose pins or worn bushings. From the coupling system, move on to the lift arms and check for any cracks, dents or other evidence of structural damage. Don't forget to also check the condition of the lift arm cylinders.
2. Hydraulic system and engine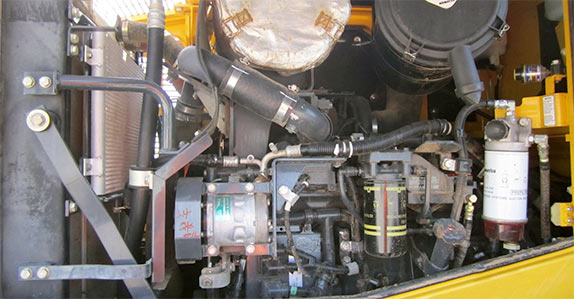 Take your time inspecting the hydraulic system. It's the most vital component of your wheel loader. Make sure to check all hoses and cylinders for any damage. Ensure all hose couplings are in good condition and free of any breaks or scratches. Check all cylinders for any leaks, dents or scratches that could allow fluid to leak out or contaminants to make their way in. After the hydraulic system, check the engine for any obvious leaks or loose belts. Check the air filter and note the last service date, which should be recorded on the filter itself. Most wheel loader air filters should be replaced every 1,000 hours.
3. Cab and general operation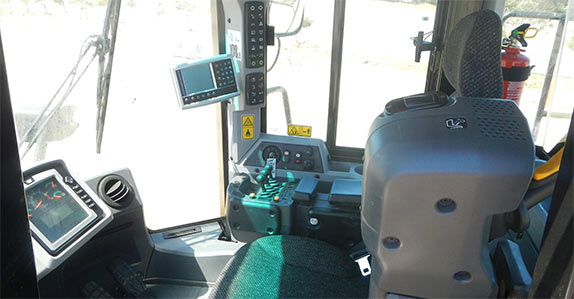 As you make your way into the cab, check for any loose grab irons or an unsecure ladder. Evaluate the overall condition of the seat, joysticks and foot pedals and make a note of the hour meter reading. Start up the machine and check that all gauges are operational, including the back-up alarm. If you hear any squeaking sounds when operating the bucket or other wheel loader attachments, it could mean that the machine has not been lubricated and the metal components are now rubbing together.
4. Center articulation point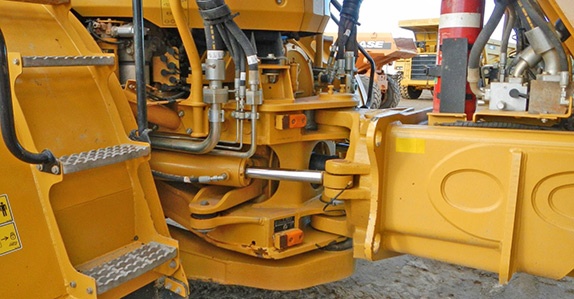 Located underneath the cab at the midpoint of the wheel loader sits the center articulation point. Look for signs of wear in the articulation point. If the wheel loader was operated in rough, uneven, rocky conditions, rather than on smooth ground, the articulation point should tell the story. If excessive wear is present, you may experience play or a noticeable up-and-down movement in the top and bottom pins during operation.
5. Frame, ROPS/FOPS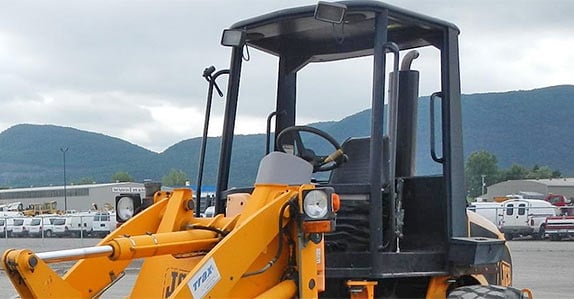 If the wheel loader does not come with an enclosed canopy, make sure to inspect the ROPS (Roll Over Protection Structure) main supports for any bends or other damage that could affect its ability to protect an operator in the event of a rollover or other type of accident. In the case of a FOPS (Falling Object Protective Structures), check that all side screens are damage free and secure.
Once you've completed your visual and functional inspection, ask to view the wheel loader's service record or work orders. Unless you are very experienced and know what to look for when inspecting a wheel loader, have a qualified mechanic or knowledgeable operator carry out the inspection.
If you're interested in buying wheel loaders, see what's available for sale on IronPlanet and Marketplace-E, including a large selection with IronClad Assurance Equipment Condition Certification. Or check upcoming Ritchie Bros. onsite auctions, then visit the auction site to test, inspect and compare different models before you bid.