Aquatica Stingray 500 submersible selling via Marketplace-E
You'll often find some interesting items selling at Ritchie Bros. besides our core inventory of heavy equipment and trucks – classic cars, jet aircraft, helicopters, fire trucks and more. But this Aquatica Stingray 500 submersible is definitely one of the most unusual items we've ever sold, and it's available to buyers on our online platform, Marketplace-E.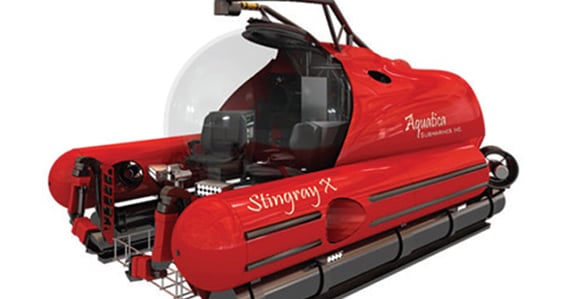 The Stingray 500 is a human occupied submersible capable of taking three occupants to a depth of 500 feet, and this one in particular has a colorful history. Sir Richard Branson – founder of the Virgin Group of companies and well-known global adventurer – along with Fabien Cousteau (grandson of the famed deep sea explorer, Jacques Cousteau) used the vessel in 2018 to explore and map the Great Blue Hole, an undersea cave located off the coast of Belize.
The Stingrays' general cabin arrangement provides ample room for three occupants and the acrylic sphere provides panoramic viewing for all passengers. It's outfitted with systems to collect data for use in navigation and research, and systems are adaptable and can be added, removed, and mounted in various orientations based on mission objectives. The Life Support System includes: an oxygen (O2) system source, a carbon dioxide (CO2) sink, as well as lung-powered scrubbers and three (3) Emergency Breathing Devices.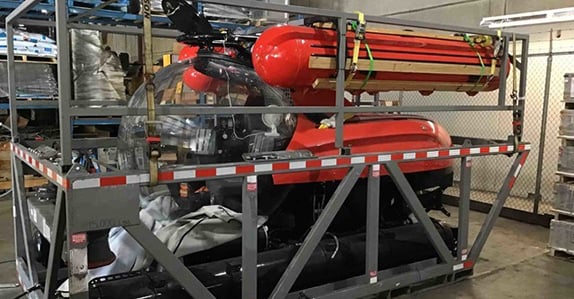 General Specs:
8+ Hours of Mission Time 96 Hours of Reserve,
(2) 10 Horsepower Horizontal Thrusters (1) 10 Horsepower Vertical Thruster
VHF
Acoustic Phone Underwater Comm Internal/External Temperature and Pressure Sensors
Water Leak Sensor
Battery Pod Hydrogen Leak Sensor
Air Conditioner
USB Ports,
Portable Controller
Type: Dry, One Atmosphere Occupants: 3– Pilot plus 2 Certification: DNV-GL Operations Depth: 500 FSW Dry Weight: 8300 lbs Payload: 800 lbs
Oxygen System
The submersible is currently located in Surrey, BC, Canada. See more details about the Aquatica Stingray 500 here.