Complete Dispersal for R.J. Taylor-Wyatt with more than 1,000 items, including 500 Pipeline Industry-related trucks & equipment plus hundreds of shop tools, accessories and other miscellaneous items
Who:

IronPlanet®, a leading online marketplace for selling and buying used equipment and other durable assets, continues its series of Cat Auction Services auctions and is coming to Ballard, UT on May 25. This sale is the fifth of six major onsite auctions this spring, along with events in the U.S., Canada and the U.K.

This is a complete dispersal sale for Ballard UT-based R.J. Taylor-Wyatt, LLC. Equipment is based in Ballard, Utah, and in Goodland, Kansas. The auction will take place onsite at R.J. Taylor-Wyatt in Ballard, UT (including the items in Goodland KS) with the tools, parts and attachments being sold online only.

When:

Live auction of Large Equipment:

Wednesday, May 25, 2016 at 8 a.m. MT

Online Only Auction of Tools, Parts & Attachments (400 Misc. Items):

Wednesday, May 25, 2016

Where:

Onsite auction at R.J. Taylor-Wyatt, LLC.

288 N 3500 E

Ballard, UT

Online at www.ironplanet.com or www.catauctions.com

Equipment Preview:

In Ballard, UT, May 16 - 24, 8 a.m. - 5 p.m. at R.J. Taylor-Wyatt, LLC

In Goodland, KS, May 20 - 24, 9 a.m. - 4 p.m. at 723 w. Hwy 24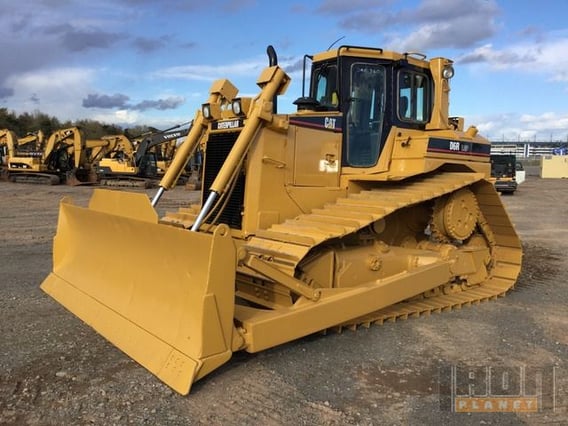 The diverse lineup for this auction features over 500 late model, low hour pieces of equipment, including items specific to the pipeline industry from makes such as Caterpillar, Komatsu, Tesmec, Peterbilt, Great Dane, John Deere, Dodge, Ford and more. An additional 400 parts, tools and attachments will be sold online.
Featured items include: Pipelayers, Trenchers, Excavators, Tack Rigs, Crawler Tractors, Motor Graders, Telehandlers, Wheel Loaders, Fusion Machines, Pipe Benders, Pipe Threaders, Truck Tractors, Trailers and more.
Select items include*:
6 Motor Graders: Caterpillar, John Deere

2011 Cat 14M
2009 Cat 160M AWD
2007 (1), 2005 (1) John Deere 772D

9 Pipelayers: Caterpillar

2005 Cat 561N
2005 Cat D6N LGP w/Conversion
2002 Cat DXM XL w/Conversion
Cat 561 (multiple)

28 Track Excavators: Caterpillar, Komatsu

2013 Komatsu PC290LC-10
2012 Komatsu PC360LC-10
2012 Cat 336E
2012 (5) Komatsu PC290LC-10
2011 (6) Komatsu PC350LC

13 Crawler Tractors: Caterpillar, Komatsu

2012 Cat D6T XL
2004 (1), 2002 (2) Cat D8R
2007 Komatsu D65WX

15 Backhoe Loaders: Caterpillar, John Deere, JCB

2012 John Deere 310SK
2008 (1), 2007 (1), 2006 (3) Cat 420E IT

4 Wheel Loaders: Caterpillar, Volvo

2014 (2) Volvo L90G
2012 Cat 988H

2013 Freightliner FL 114SD Super 16
4 Trenchers

2005 Tesmec TRS1475
2001Tesmec TRS1100 & TRS 1675
*Please visit www.ironplanet.com for more information; equipment information is most current on the website.
Look for IronPlanet's IronClad Assurance® equipment condition certification on equipment listed on IronPlanet, TruckPlanet®, GovPlanet®, and catauctions.com, which gives buyers the confidence to buy online knowing that they have an accurate representation of equipment condition. Equipment Protection Plans from Cat Financial may be available on qualified Cat® equipment, which will be noted in the auction catalog.
About IronPlanet
IronPlanet is a leading online marketplace for selling and buying used equipment and other durable assets and an innovative participant in the multi-billion dollar used equipment market. Founded in 1999 to transform the global used equipment market, IronPlanet has built a database of more than 1.5 million registered users worldwide. IronPlanet connects buyers and sellers of used equipment with its exclusive IronClad Assurance® equipment condition certification and family of brands, including IronPlanet®, GovPlanet®, TruckPlanet®, Cat Auction Services, Kruse Energy & Equipment AuctioneersSM, allEquip® and Asset Appraisal ServicesSM. IronPlanet is backed by Accel Partners, Kleiner Perkins Caufield & Byers, Caterpillar and Volvo. For more information, visit www.ironplanet.com.