Who:

What:

IronPlanet®, a leading online marketplace for selling and buying used equipment and other durable assets, today announced Episode 5 in its webinar series, set for April 26, 2017. The in-depth webinar is "Predicting the Future of Equipment Machine Pricing – From Platforms to Performance Prediction Models."

This educational and comprehensive event is the fifth episode in IronPlanet's unique webinar series. It will feature Matt Ackley, CMO of IronPlanet and Ken Calhoon, VP of Data Analytics at IronPlanet. The webinar will take place on Wednesday, April 26 at 10 a.m. PT / 1:00 p.m. ET.

The webinar will look at a host of new developments in the equipment world from the application of data, to using modeling to predict demand. Matt Ackley and Ken Calhoon will delve deeper into the power of data and how it is revolutionizing the construction and heavy equipment industry. Matt will also look at the role of platforms and marketplace solutions in the future of asset disposition.

During the webinar, attendees will have the opportunity to learn about:

· How data and predictive analytics are powering the new

heavy machinery marketplace

· Machine learning and its application in our industry

· The role of platforms in the disposition process

· Near future trends such as image recognition

· Live Q&A session

For additional details and to register for the webinar, click here.

When:

Wednesday, April 26, 2017 at 10:00 a.m. PST / 1:00 p.m. EST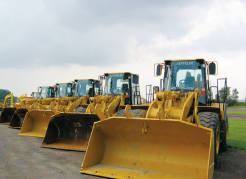 About IronPlanet
IronPlanet is a leading online marketplace for selling and buying used equipment and other durable assets and an innovative participant in the multi-billion dollar used equipment market. Founded in 1999 to transform the global used equipment market, IronPlanet has built a database of more than 1.7 million registered users worldwide. IronPlanet connects buyers and sellers of used equipment with its exclusive IronClad Assurance® equipment condition certification and family of brands, including IronPlanet®, GovPlanet®, TruckPlanet®, Cat Auction Services, Kruse Energy & Equipment AuctioneersSM, allEquip® and Asset Appraisal ServicesSM. IronPlanet is backed by Accel Partners, Kleiner Perkins Caufield & Byers, Caterpillar and Volvo. For more information, visit www.ironplanet.com.