Customers invited to subscribe to monthly Ritchie Bros. Used Equipment Market Trends Summary report.
With billions of dollars of equipment transacting via our multiple global sales channels each year, only Ritchie Bros. has the data that gives us unmatched insight into market trends around the world. In fact, we transact so much equipment that we're often cited as one of the main data sources in leading industry reports.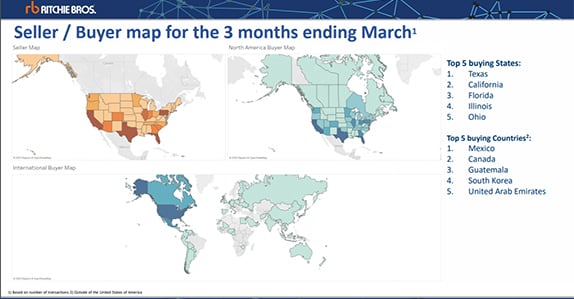 And with assets selling around the globe on an almost daily basis, the data we collect is as up-to-date as you can find. More and more companies are turning to our industry-leading rb Asset Solutions platform to give them the latest data and insights – specifically our Market Trends tool, which gives you LIVE data from all Ritchie Bros. public sales channels. This includes price performance by asset type and geographic demand.
Now we're giving customers the opportunity to leverage some of that data and insight to help guide their used equipment sales strategy with a free subscription to our monthly Ritchie Bros. Used Equipment Market Trends Summary report (US Edition). Every month, we'll email you this report showing you:
Global pricing trends for:

Heavy equipment
Transport trucks
Vocational trucks
Lifting equipment

Buyer demand by geographic region