From the world's largest unreserved live auction company to a global network of online and onsite selling channels, Ritchie Bros. today is more than an auction company – much more.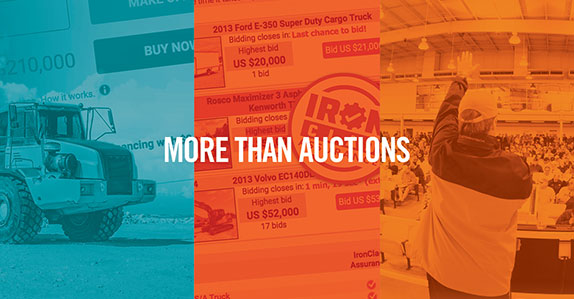 Our evolution: helping you better sell equipment.
Our evolution, including acquiring IronPlanet in 2017, is fueled by the desire to give customers more options. Our exciting live equipment auctions are the class of the industry, but today we also offer convenient IronPlanet online solutions or Marketplace-E, an always-on digital marketplace that gives customers more control over price and how they buy and sell equipment. In other words, we've adapted to meet your needs and ensure you get the best returns for your assets.
And when you sell with Ritchie Bros., you are getting powerful marketing muscle, unprecedented global reach and exposure to world-wide buyer audiences that are unmatched in the industry.
A look at our family of solutions.
You bring the equipment, we bring the global demand.
No other company does what we do to drive awareness of the events we conduct and equipment we sell – to buyers both new and loyal. We market every item we sell by identifying and actively targeting buyers by sector, geography, and intent using leading data analytics and more.
Our global network and reach, sales solutions and services bring the most motivated buyers from around the planet. Selling with us means world-class representation of your equipment online and onsite. Our marketing efforts all come down to one thing – getting the best results for our customers.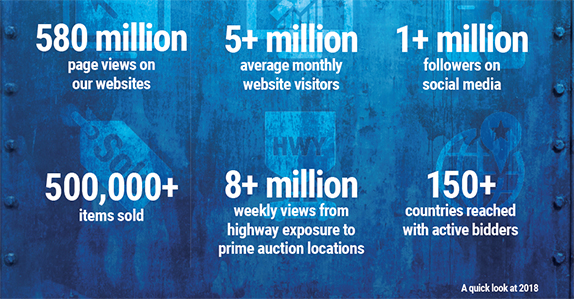 The core of who we are.
Despite our size and stature as an industry leader, we never lose sight of what got us to where we are today: treating customers right.
A one-and-done transaction is never the norm. Most relationships between our customers and employees span decades and even multiple generations because when you sell with Ritchie Bros., it's not just business as usual. You've placed a trust in us to help you reach your business goals and we take that very seriously.
So whether you're brand new to Ritchie Bros. or getting to know us again, understand that to us it's always about supporting the customers' needs and making sure they know they're our priority. Our ultimate goal is to earn our status as your Trusted Advisor, giving you expert advice on when and how to sell your equipment and trucks the best way possible. Your Ritchie Bros. Territory Manager will help you find the right solution based on your needs.
Different needs, need different solutions.
Whatever your selling goals are, we've got you covered with one or a combination of our selling solutions.
Marketplace-E

Reserved Online Marketplace

Control over price & timing

Always on 24/7

Equipment sold where it sits

IronClad Assurance™ equals confident buyers

Access to global buyers

IronPlanet

Weekly Online Auctions

Fast time-to-cash

Frequency of sale

Equipment sold where it sits

IronClad Assurance™ equals confident buyers

Access to global buyers

Ritchie Bros. Auctioneers

Unreserved Onsite Auctions

Certainty of sale

Turnkey selling

Exciting live auctions

Pre-auction buyer inspection

Access to global buyers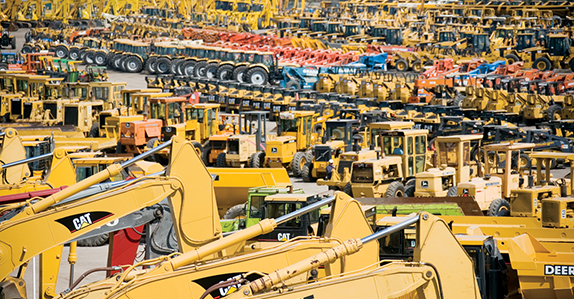 When business changes, so do we.
We know your business needs can change day-to-day, month-to-month, job-to-job. So when you need to sell assets, a one-size-fits-all approach isn't going to cut it. That's why we're continually evolving and innovating to offer you more ways to sell when, where, and how you want.
And however you choose to sell with Ritchie Bros., we're your gateway to the global equipment buyer market. No one gets more eyes on your equipment, and drives more buyer demand. But we want to do more than just help you sell. We want to help your business move, build and grow. So when you partner with Ritchie Bros., you're working with a partner who's invested in your success.
Take the next step: meet with your local representative.
Our Territory Managers (TMs) take great pride in working closely with customers and meeting their individual business needs. Whether you have one item or an entire fleet to sell, you can expect the best from our team.
We are ready and waiting to discuss a wide range of options to sell your assets with confidence; secure in the knowledge you made the right choice, every time.
Contact us for more details by visiting RitchieBros.com/MoreThanAuctions or call 1.855.994.1507