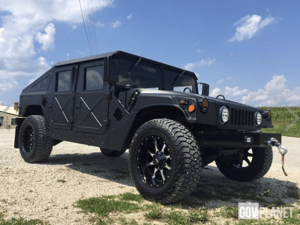 September means opening season for everything good: football, hunting, chili cook-offs, and lower air fares. IronPlanet's calendar is up to its axles in auctions and special events this month, starting with the GovPlanet surplus auction on September 7, then rolling on to the September 8 auction featuring a 2005 Vermeer T-955 Trencher, this 2006 Komatsu D155AX-6 Crawler Tractor, this 2002 Cat 320CLU Track Excavator, and much more from the venerable Oldcastle.
Friday and Saturday, September 9 and 10, IronPlanet will be in Detroit for a live auction with Leake Auction Company. Haven't you always wanted a 1968 Jeep CJ5? Or maybe your dream car is a 1970 Chevrolet Chevelle SS. Check them out then road trip to motor city!
Brace yourself for September 13's online All Humvee Sale! On that day you can say "Ah'll be back" all you want, just bid and tell your significant other IronPlanet says it's OK.
Go big in the Lone Star state! September 14 IronPlanet and Cat Auction Services will be deep in the heart of Texas at the live auction in Dallas/Ft. Worth. This is an UNRESERVED auction and you can bid online or onsite - you'd be crazy as a love-struck armadillo to miss this one.
September 15 and 16 will be the grandaddy of IronPlanet auctions, with over 2,000 items up for bid. Fowler Transportation will be onsite at Marshall, TX and Big Spring, TX with a complete dispersal of over 600 items including this 2011 Kobelco CK850 III Lattice-Boom Crawler Crane, this 2014 Kenworth W900 Tri/A Winch Truck, and this 2008 John Deere 544J Wheel Loader.
The Pump & Power sale is online September 15, featuring this 1996 Gorman-Rupp 604-F 6" Fuel Transfer Pump and scads of 1987 Gorman-Rupp 609-C 6" Water Pumps, among others.
It's a September to remember at IronPlanet, so bid early and often, because at IronPlanet we GO BIG!

Detroit DD15 14.8L Engine, Engine Brake, Eaton Fuller FRO15210C,10 Speed, Manual Transmission, 182" WB, 12000 lb. Front Axle, 40000 lb. Rears, Air Ride Cab, Air Ride Suspension, Fixed 5th Wheel, Cab Extenders, Roof Fairing, Chrome Bumper, Air Conditioning, Cruise Control, Power Windows, Power Mirrors, Heated Mirrors, Dual High Back Seats, Tilt Steering Wheel
Open Operator Station, 4WD w/ 3 Way Steering, 48" Forks, Side Tilt Carriage, Frame Leveling, Outriggers, Diesel Engine, 14.00-24TG Tires, Foam Filled Tires
Enclosed Cab, Heater, 4WD, 94" Multi-Purpose Loader Bucket, 24" Rear Bucket, Extendable Stick, Ride Control, Tilt Steering Wheel.
Enclosed Cab, Air Conditioner, Heater, Swing Boom, 4' 11" Stick, Auxiliary Hydraulic Plumbing, Hydraulic Thumb, Backfill Blade, 15 1/2" Track Belts, Bucket not included
41' Overall Length x 108" Overall Width, Air Brakes, 11R24.5 Tires.
Ford 5.4L Gasoline Engine, Automatic Transmission, 4x2, Air Conditioner, Cruise Control, Power Windows, Power Door Locks, Power Mirrors, Hitch Receiver
All of IronPlanet's September 8 auction items are available now to preview, and be sure to read inspection reports.
Looking to finance your equipment? IronPlanet now offers buyers instant financing on equipment purchases with Express, by Currency Capital and financing options from Cat Financial. Instant financing, along with IronPlanet's IronClad Assurance® equipment condition certification is just another way IronPlanet helps its customers to buy online with confidence.
Whether you're onsite at the campground or the job, you can buy your next piece of equipment in our September 8 auction!