Kelowna-based company disposes of older units through auction, adds new machines.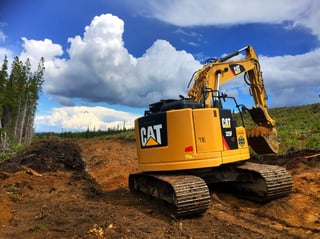 For BC General Contracting Inc. business is brisk, despite the season's slow start due to an unhurried municipal approvals process.
The award-winning Westbank, a BC-based company which focuses primarily on subdivision prep work, is now booked steadily until next summer.
With a strong book of business ahead, BCGC owners Beau and Cain Derickson figured it was time to modernize their fleet. "We wanted to do a full changeover of our equipment that was houred up," said Beau from his office near Kelowna, in the province's interior. "They weren't in bad shape, it's just that we were looking at a pretty big maintenance bill and we couldn't risk any downtime." This kind of advance planning helped BCGC win a BC Achievement Foundation Award as business of the year in 2009.
For help with the transition to newer iron, the Dericksons looked to Finning Canada, the local Caterpillar dealer, which offered the range of new machines BCGC was looking for. An added bonus was the ability to dispose of older iron through Finning's new auction sales channel, unveiled about a year ago.
Through its alliance with online auction giant IronPlanet and their live auction marketplace, Cat Auction Services, Finning helped BCGC dispose of a mixed package of used equipment which included Hitachi excavators, John Deere wheel loaders, and Cat articulated dump trucks, among others.
One-stop shop takes a load off
Beau said Finning's one-stop-shop meant he could keep his focus where it mattered. "We didn't want to take our eye off the ball. We needed to be prepared to put all of our new equipment to work." In the end, BCGC added several new units, ranging from compact machines and excavators to wheel loaders and graders.
Throughout his career, Beau's been happy with his Hitachi excavators, operating them pretty well exclusively since 1989. But lately he's been impressed with how Cat excavators have caught up in terms of smooth operation and cab layout. "Cat's made improvements in undercarriage, in the engine, and in creature comforts. You're in the seat all day, so you want the comfort, not a cheap piece of foam that rattles around in the cab."
We also asked Beau if the Finning and IronPlanet one-two punch added value. "Absolutely!" he said. "It was reassuring having Finning and IronPlanet working together instead of potentially being at odds with each other. Having it all in one place meant IronPlanet and Finning people could talk behind the scenes to make things happen instead of me having to be the middleman." And because IronPlanet enables customers to sell machines through auction right from their own yard, BCGC saved about $50K in transportation costs.
"We know that our success is important to Finning and IronPlanet. We also know that if we're not successful, they won't be successful either. So it's a win-win."
BCGC also got more than it bargained for in the value of the units they auctioned off. "Yes, the total came in almost exactly as (Finning and IronPlanet) predicted. We even got a few bucks over what we expected."
Finning will host another live Cat Auction Services unreserved event on September 21 in Edmonton at the Marriott River Cree. To get your machines into the auction brochure, contact your Finning sales rep today at 1-888-FINNING.